This fantastic hell ant has been preserved in amber for around 99 million years. It was frozen in time just as it snatched its prey.
We've come across some stunning examples of animals preserved in amber for millions of years. One of the most spectacular ones I've seen in the last few years is a fragment of a dinosaur tail, with its feathered still attached, preserved in amber dating back some 100 million years. But there are plenty of other stunning examples, like this and this. Now, researchers have reported discovering another stunning example, a "hell ant" preserved in 99 million-year-old amber.
A 99 million-year-old fossil of a hell ant
Researchers from the New Jersey Institute of Technology (NJIT), the Chinese Academy of Sciences (CAS), and the University of Rennes in France have found a 99 million-year-old fossil that preserves an enigmatic insect in its pure state dating back to the Cretaceous period. The predator ant (haidomyrmecine) was caught embedded in amber while 'snatching' its unsuspecting final victim, an extinct relative of the cockroach known as Caputoraptor elegans.
A prehistoric encounter
This prehistoric 'encounter,' captured in amber recovered from Myanmar, offers a detailed look at a newly identified prehistoric ant species, 'Ceratomyrmex Ellenberger,' and presents some of the first direct evidence showing how this and other "hell ants" made use of their intricate, deadly features, by working its scythe-like jaws in a vertical motion to hold the prey against its horn-like appendages.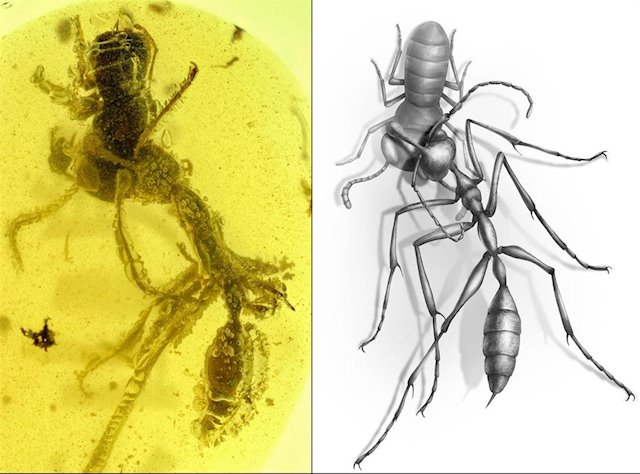 A truly rare hell ant fossil
The rare fossil that demonstrates the feeding mode of the hell ant offers a possible evolutionary explanation for its unusual morphology and highlights a key difference between some of the early relatives of ants and their modern counterparts, which today feature gripping mouthparts moving laterally together. The hell ants lineage, along with their surprising predatory traits, is suspected of having disappeared along with many other early ant groups during periods of ecological change around during the Cretaceous-Paleogene extinction event around 65 million years ago.
The anatomy of a hell ant
As revealed by researchers in their study published in the Journal of Current Biology, this extraordinary event, frozen in amber, confirms a hypothesis of how the mouthparts of hell ants functioned. The only way to capture prey in such an arrangement is for the ants' mouthparts to move up and down in a different direction than all other ants and almost all insects. Hell ants are fascinating creatures.
The first specimen was found a century ago
Since the first specimen was discovered about a hundred years ago, it has been a mystery why these now-extinct animals are so different from the ants we have today. This specimen caught in amber reveals the mechanism behind what we might call an 'evolutionary experiment.' The researchers have explained that although we see numerous such experiments in the fossil record, we often do not have a clear picture of the evolutionary path that led to them.
Have something to add? Visit Curiosmos on Facebook. Join the discussion in our mobile Telegram group
Share Now