Scientists were able to record the formation and growth of salt crystals on video for the first time ever. To do this, they needed conical carbon nanotubes and a powerful electron microscope with a high frame rate.
The video which you can see below shows that the formation of the crystal lattice is preceded by a semi-ordered state of molecules, and also that the formation of crystals is indeed a stochastic process.
You can read the original scientific article published in the Journal of the American Chemical Society.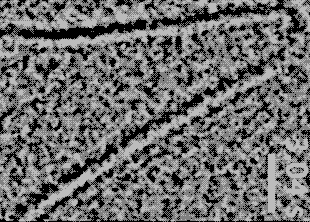 Everything you need to know about the formation of crystals
Crystals differ from amorphous solids in that their atoms or molecules are arranged in an ordered three-dimensional lattice. The formation of crystals from a melt, solution, gas, or amorphous state occurs in two stages – first, a microscopic nucleus appears in the form of a set of ordered particles, then others join this nucleus, as a result of which it grows and can reach macroscopic sizes up to several centimeters or more.
Under normal conditions, many crystals can be observed to grow, such as frost on a cold surface or salt in a supersaturated aqueous solution. At the same time, no one has been able to directly record the formation of an embryo for two main reasons.
First, because it is made up of several atoms or molecules, observation requires a high magnification electron microscope. Second, the onset of crystallization is stochastic, that is, a largely random process. The formation of crystals is facilitated by inhomogeneity of the medium or vessel, for example, dust particles, but the exact time and place of the formation of the embryo is impossible to predict.
Capturing crystal formation on video
A team of researchers from the University of Tokyo led by Takayuki Nakamuro was able to record the formation of crystal nuclei on video. First of all, to limit the space for crystallization, they needed conical carbon nanotubes of monoatomic thickness, whose ends resemble a horn or a sealed bottleneck. These nanotubes were flooded with an aqueous solution of sodium chloride NaCl, after which it was dried by creating a vacuum.
The nanotubes were then examined under a transmission electron microscope operating at a frequency of about 60 frames per second and resolution down to individual atoms. The images confirmed that the water penetrated into the nanotubes, and after it dried out, salt nanocrystals remained in them.
The scientists then focused on the closed ends of the nanotubes. It turned out that nanotubes vibrate for an unclear reason, and under the influence of vibration, salt molecules in the form of vapors penetrate into its end, where they form crystals. Physicists have managed to observe more than a dozen times how a nucleus forms spontaneously, how it grows and how it leaves the field of view into a more spacious part of the nanotube.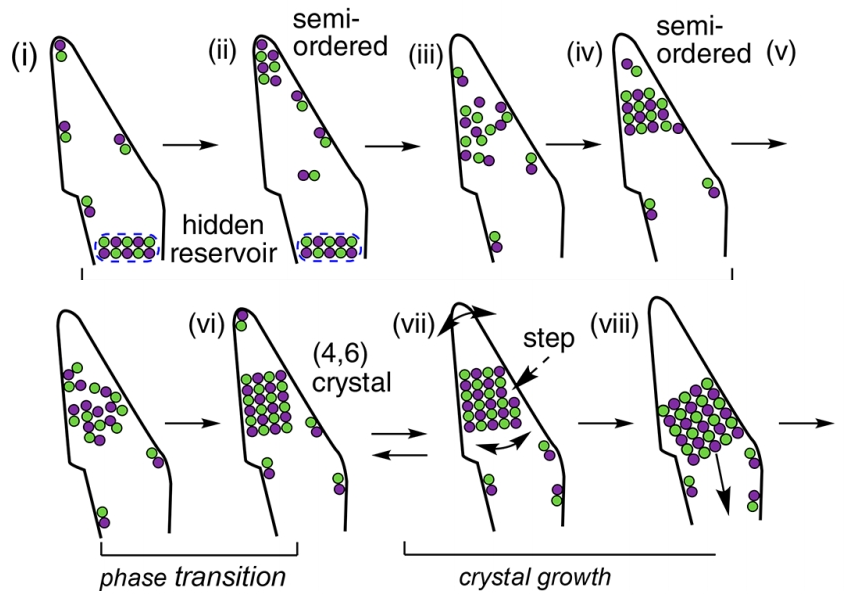 In addition, the researchers noticed that the formation of the embryo is preceded by the formation of a pre-embryo, in which the molecules are in a semi-ordered state. This semi-ordered state always precedes the phase transition and crystallization, but in the same way, the pre-embryo can disintegrate.
Among other things, the study confirmed the stochastic nature of crystallization, since the nucleation times correspond to a normal distribution.
---
Join the discussion and participate in awesome giveaways in our mobile Telegram group. Join Curiosmos on Telegram Today. t.me/Curiosmos
---
Sources:
• Nakamuro, T. (2021, January 21). Capturing the Moment of Emergence of Crystal Nucleus from Disorder. Retrieved February 01, 2021, from https://pubs.acs.org/doi/10.1021/jacs.0c12100
• Nester, R. (2021, January 22). A surprising video exhibits the formation of salt crystals from particular person atoms: BLOG NEWS LINK.
• Starr, M. (n.d.). Mind-Blowing Video Reveals The Formation of Salt Crystals From Individual Atoms.
• University of Tokyo. (2021, January 21). Atomic resolution video of salt crystals forming in real time. ScienceDaily.