Researchers recorded 50.9 hours of video to understand how black bears walk in order to debunk an old theory suggesting the footprints were left by bears.
Biologists and anthropologists have re-examined the tracks on the volcanic tuff that were discovered in 1976 in Tanzania. For a long time, it was believed that they were left by a bear walking on two legs. However, scientists concluded that about 3.7 million years ago, an unknown hominin walked through the ash, whose foot was different from the Afar Australopithecus who lived at the same time.
---
Unknown human ancestors left footprints in Tanzania millions of years ago
Ancient footprints in Tanzania
In 1976-1978, 20 kilometers from the Sadiman volcano in Tanzania, archaeologists discovered several chains of footprints that were left about 3.7 million years ago on the volcanic tuff.
This site was named Laetoli and one particular area became the most famous – scientists found the traces of three individuals that walked through the not yet frozen volcanic ash, leaving a chain of footprints about 27.5 meters long.
Scientists note that these were bipedal individuals, which had a well-developed longitudinal and transverse arch of the foot. It is believed that these tracks belong to the Afar Australopithecus (Australopithecus afarensis), the remains of which are known from this area.
Animal traces
However, there are many other traces left by various animals in Laetoli. According to scientists, there are at least 18400 of them. So, at the location of Laetoli A, the researchers found five consecutive footprints left by an unknown biped. Initially, they were thought to be left by hominins, while in 1987, the American anthropologist Russell Tuttle came to the conclusion that these should be the remains of a bear that walked on its hind legs.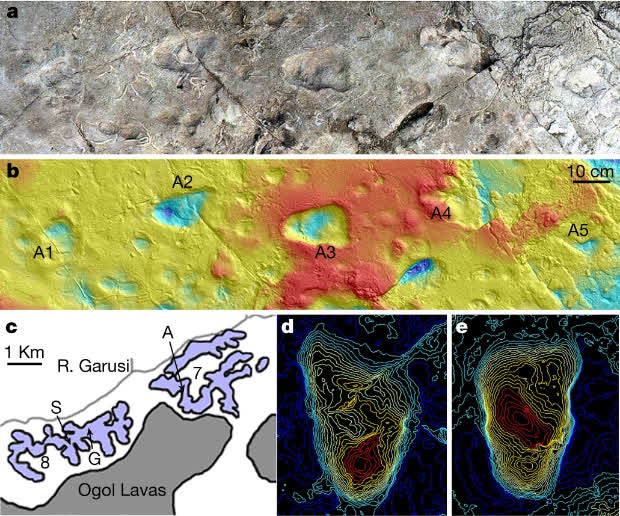 The footprints were left by an unknown human ancestor and not animals
A new research team decided to investigate five Laetoli tracks at Location A, which researchers re-excavated in 2019 to create a digital archive using 3D photogrammetry and laser scanning. In addition, the scientists decided to compare the footprints with the gaits of bears (Ursus americanus), chimpanzees (Pan troglodytes), and humans (Homo sapiens).
Researchers recorded 50.9 hours of video to understand how the black bear walks. It turned out that he stood on two paws only 0.09 percent of the time and only in one case made four steps on them.
The scientists noted that these results can be applied to other bears as well. In addition, no bear fossils have been found at Laetoli, although more than 25,000 ancient bones have been excavated here, belonging to 85 species of mammals.
The researchers also measured the paw prints of wild young black bears and chimpanzees. The footprint size at location A appeared to be relatively similar to the footprints of hominins from localities G and S.
This is also supported by the width of the heel and the absence of claw prints. Scientists came to the conclusion that these are traces of a hominin that walked in a cross step.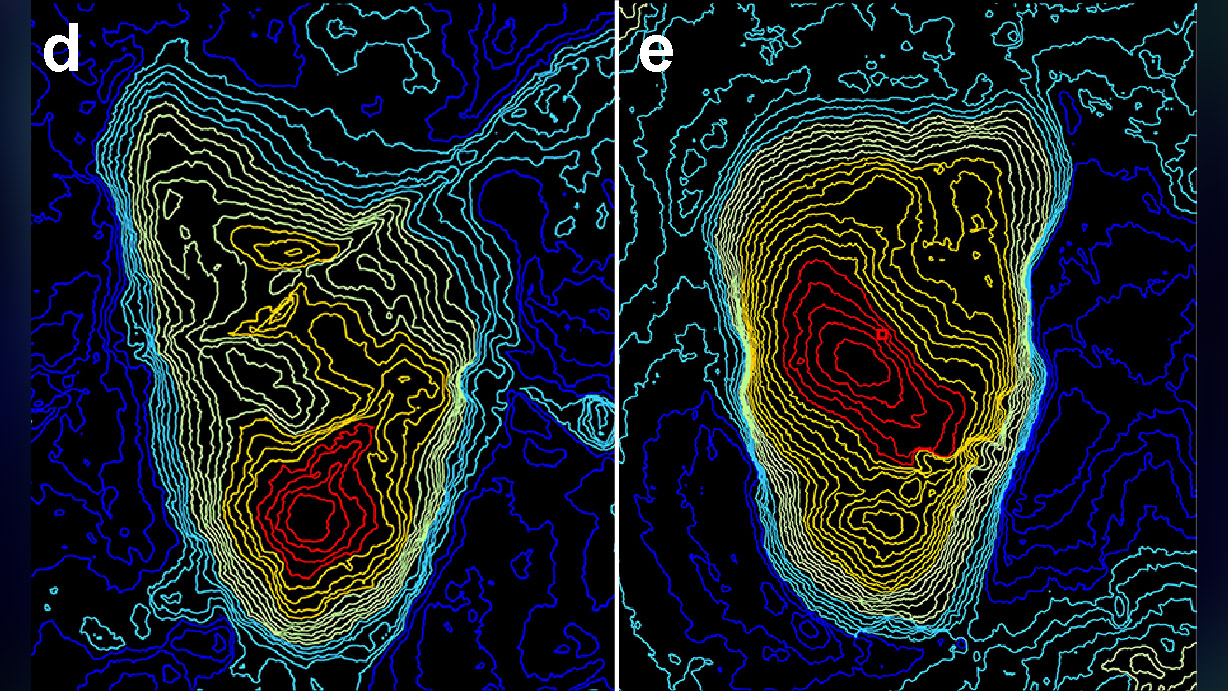 Conclusions
The researchers noted that Australopithecus afarensis left footprints at sites G and S. However, according to their calculations, traces in locality A were left by an individual from 101 to 104 centimeters in height, which is noticeably lower than in sites G and S.
The morphology of tracks in locality A does not allow attributing this to an adolescent individual of this species. The researchers concluded that these footprints were left by a bipedal hominin, an unknown human ancestor, which is believed to have had a more primitive leg than Australopithecus afarensis.
---
Join the discussion and participate in awesome giveaways in our mobile Telegram group. Join Curiosmos on Telegram Today. t.me/Curiosmos
---
Sources:
• Choi, C. Q. (2021, December 1). Unknown human ancestor may have walked a bit like a bear on its hind legs. LiveScience.
• Koumoundouros, T. (n.d.). An unknown human ancestor may have left 3.7-million-year-old footprints in Africa. ScienceAlert.
• McNutt, E. J., Hatala, K. G., Miller, C., Adams, J., Casana, J., Deane, A. S., Dominy, N. J., Fabian, K., Fannin, L. D., Gaughan, S., Gill, S. V., Gurtu, J., Gustafson, E., Hill, A. C., Johnson, C., Kallindo, S., Kilham, B., Kilham, P., Kim, E., … DeSilva, J. M. (2021, December 1). Footprint evidence of early hominin locomotor diversity at Laetoli, Tanzania. Nature News.
• Smithsonian Magazine. (2021, December 3). A set of ancient footprints may have belonged to an unknown human ancestor.
Share Now