Astronomers using the MeerKAT radio telescope have discovered two new giant radio galaxies, which are some of the largest single objects in the universe. This suggests that there are many more such objects than previously thought. The article was published in the Monthly Notices of the Royal Astronomical Society.
Many of the active galactic nuclei, which contain supermassive black holes that actively absorb matter, generate jets of relativistic plasma and particles, which are clearly visible in the radio range. The jets sometimes spread over extremely long distances, going beyond galaxies and entering the intergalactic environment. 
If the linear size of the jets and the radio blades they create exceed 0.7 megaparsecs, then such systems are called giant radio galaxies.
These are the largest single objects in the universe, electromagnetically connected. The length of most of the known giant radio galaxies is less than two megaparsecs, and the linear size of the largest such system is 4.89 megaparsecs.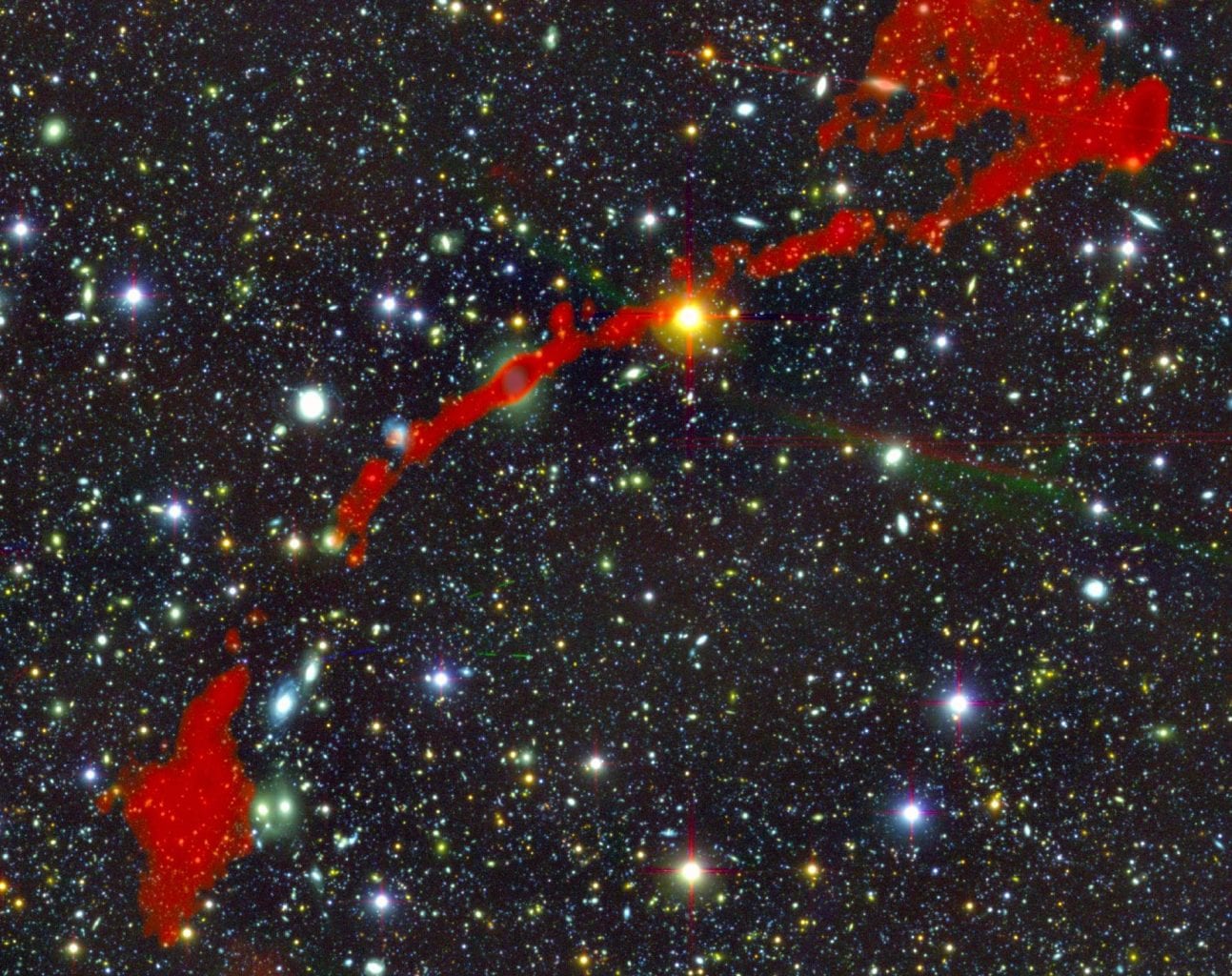 The first giant radio galaxies were discovered in the 1970s but today, there are slightly more than 800 known such objects. They are mainly found using radio surveys of the sky and there are several versions of their origin. These can be long-lived (several hundred million years) or very powerful active galactic nuclei or systems in a low-density environment that allows jets to propagate over long distances.
Newest Giant Radio Galaxies
A group of astronomers led by Jacinta Delhaize from the University of Cape Town has reported the discovery of two new giant radio galaxies. They were found during the MIGHTEE (MeerKAT International GHz Tiered Extragalactic Exploration) sky survey conducted with the MeerKAT ground-based radio telescope and devoted to the study of the evolution of galaxies.

The galaxies were designated MGTC J095959.63 + 024608.6 and MGTC J100016.84 + 015133.0 and were found in an area of ​​one square degree within the COSMOS field of view. They have redshifts z = 0.1656 and z = 0.3363 and physical dimensions of 2.42 and 2.04 megaparsecs, respectively, which makes them one of the largest objects of this kind.
Both galaxies are members of the class of elliptical LERG galaxies, rich in old stars and practically not forming new ones. They are characterized by the low power of radio emission and the diffuse nature of jets and radio blades, which is why they were not previously seen in other sky surveys.
Scientists have come to the conclusion that their discovery proves that there may be much more giant radio galaxies in the Universe than previously thought. Only with the help of new, very sensitive sky surveys will it be possible to reveal this "hidden" population of giant radio galaxies. 
---
Join the discussion and participate in awesome giveaways in our mobile Telegram group. Join Curiosmos on Telegram Today. t.me/Curiosmos
---
Sources:
• Delhaize, J. (2021, January 20). Discovery of two new giant radio galaxies offers fresh insights into the universe.
• Delhaize, J., Heywood, I., Prescott, M., Jarvis, M., Delvecchio, I., Whittam, I., . . . Vaccari, M. (2020, December 14). MIGHTEE: Are giant radio galaxies more common than we thought?
• Taylor, A., & Jarvis, M. (2017, May 01). MIGHTEE: The MeerKAT International GHz Tiered Extragalactic Exploration.
• Two New Giant Radio Galaxies Discovered. (2021, January 20).