Scientists even observed a nerve impulse in the resulting eye vesicles.
German biologists have grown in the laboratory brain organoids with eye rudiments that reacted to light. The researchers spoke about their achievements in Cell Stem Cell. In the future, such mini-eyes can be used to study ophthalmic diseases and for drug testing.
---
Everything you need to know about brain organoids and their importance for science
In vitro models
The successful creation of in vitro models of human organs opens up new possibilities for studying their work and diseases. This is especially true for the brain – after all, most neurological research is carried out on the brain of mice, which is a completely different story.
What are brain organoids?
Miniature cerebral models created in vitro are called brain organoids. They are grown from pluripotent stem cells in an environment that mimics the natural environment of the developing brain. The cells differentiate, and the end result is a pea-sized brain organoid.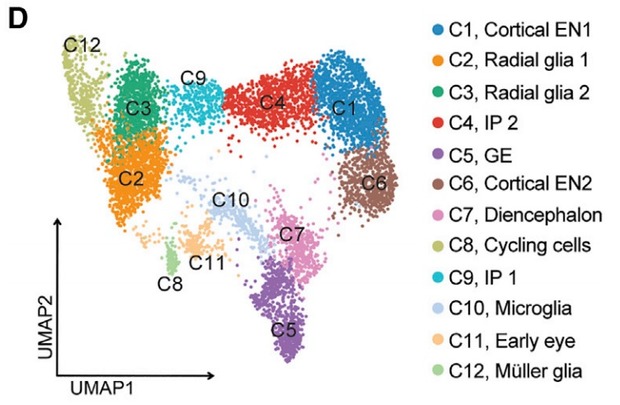 Previous achievements
In 2013, for example, researchers from the Institute for Molecular Biotechnology of the Austrian Academy of Sciences published an article describing the cultivation of a "miniature brain" in a bioreactor from two types of stem cells, which mimics the structure of the entire human brain.
Zones of the organoids
Different zones of the organoids corresponded to different parts of the brain: posterior, middle, and anterior, and the "forebrain" even showed further differentiation into lobes ("hemispheres").
Size and activity
Importantly, in this mini-brain, which also did not exceed a few millimeters in size, scientists observed signs of activity, particularly fluctuations in calcium concentration inside the neurons, indicating their excitation.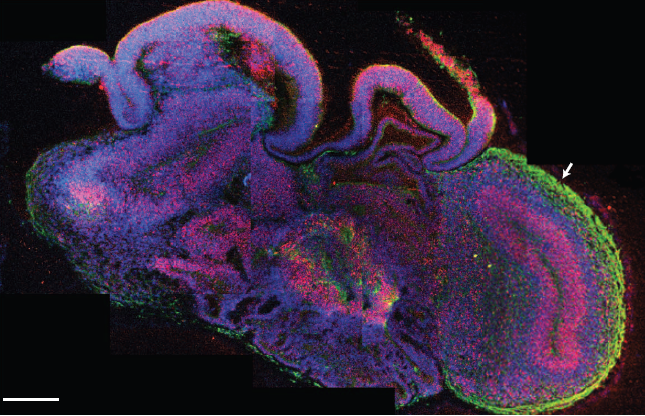 New steps
Embryologists at the University Hospital Düsseldorf, led by Jay Gopalakrishnan, have taken a new step in creating brain organoids. They raised a model of the human brain and the eye bubbles on it – the rudiments of future eyes. The latter developed spontaneously from day 30 and took their final form two months later.
Results
Corneal epithelial cells and retinal pigment epithelium were found in the resulting eye vesicles, and most importantly, they generated a nerve impulse.
Response to light
The cells of the eye bladders responded to light with electrical activity, and the response was dose-dependent: light at 200,000 milllux elicited a stronger response than 2,000 millilux of light (p <0.00001).

Future research
Lab-grown bladders can aid in the study of hereditary eye diseases as well as drug testing. In the future, scientists will have to work on extending the lifespan of the resulting brain organoids so that they can be used in research.
Similar achievements
Biologists grow not only brain organoids but also heart organoids from stem cells. Recently, American scientists managed to grow a mini-heart, in which all the main types of heart cells were formed and structures similar to the coronary vessels and chambers of the heart.
---
Join the discussion and participate in awesome giveaways in our mobile Telegram group. Join Curiosmos on Telegram Today. t.me/Curiosmos
---
Sources:
• Gabriel, E., Albanna, W., Pasquini, G., Ramani, A., Josipovic, N., Mariappan, A., Schinzel, F., Karch, C. M., Bao, G., Gottardo, M., Suren, A. A., Hescheler, J., Nagel-Wolfrum, K., Persico, V., Rizzoli, S. O., Altmüller, J., Riparbelli, M. G., Callaini, G., & Gopalakrishnan, J. (2021, August 17). Human brain organoids assemble functionally integrated bilateral optic vesicles. Cell Stem Cell.
• Saplakoglu, Y. (2021, August 18). Lab-made mini brains grow their own sets of 'eyes'. LiveScience.
• Starr, M. (n.d.). Scientists grew stem Cell 'Mini brains'. then, the brains Sort-of developed eyes. ScienceAlert.
• Tangermann, V. (2021, August 18). Scientists just GREW these GROTESQUE Mini brains With "Eyes" in a lab. Futurism.
• Weintraub, K. (2020, January 30). "Mini brains" are not like the real thing. Scientific American.
Share Now