Mankind is traveling out in the cosmos.
And while we get ready to take over the solar system, we are exploring the outermost parts of our home system.
Now, NASA's New horizon Spacecraft is sending back data it gathered while it flew past Ultima Thule, the flatish', peanut-shaped object in the outer parts of the solar system.
Ultima Thule: A Cosmic Time Capsule
Ultima Thule is weird and fascinating at the same time.
It's a mysterious object that has remained in the outermost parts of the solar system, specifically in the Kuiper Belt for around 4.5 billion years.
The surface of this oddly-shaped object is barely touched by the heat of the sun, located at more than 4 billion miles away. This means that the enigmatic Kuiper Belt object is around 43 times farther away from the sun than Planet Earth, and therefore receives around 900 times less sunlight than we do on Earth.
Because of this, Ultima Thule is a time capsule that contains the remnants and history of our early solar system. The object has never gotten warmed than around -350 degrees Fahrenheit, which means that it helped preserve its 'original' structure since its formation.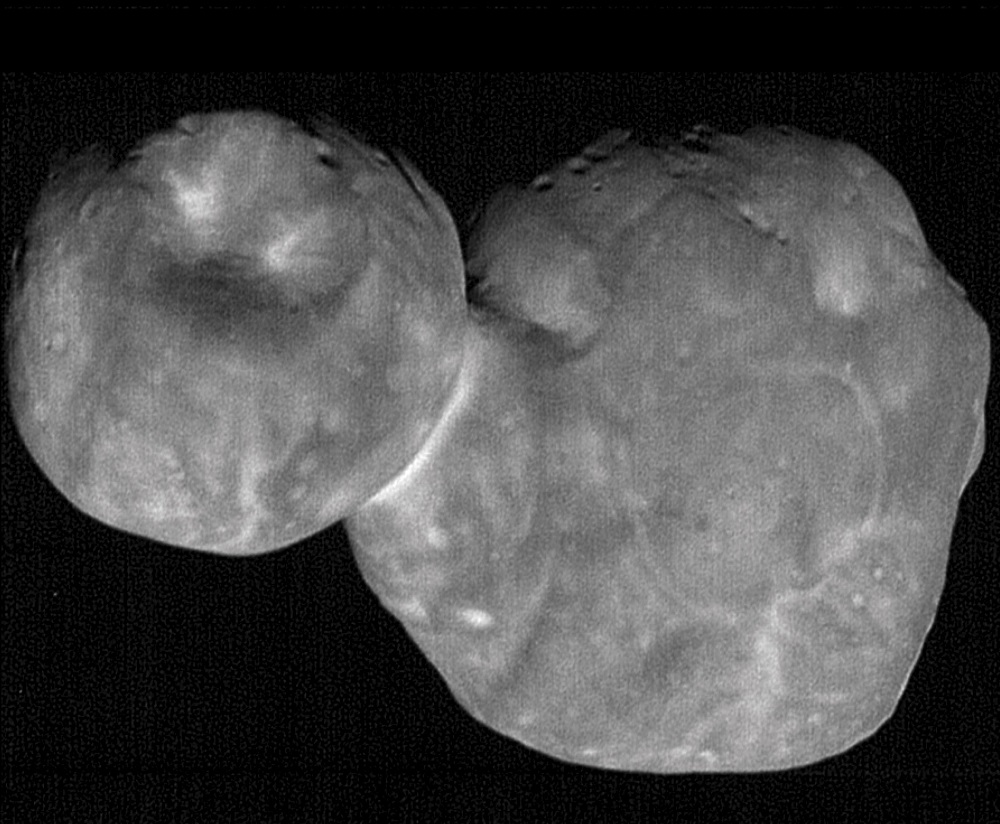 Frozen World
"We had never seen something that was so primordial, so unchanged since the early formation days," said Alan Stern, the principal investigator for the New Horizons mission.
Ultima Thule has no atmosphere, and it is composed of two massive objects (contact binary) that were slowly fused together in the distant past.
It still remains a mystery, however, what caused both objects to collide and fuse in such a peculiar way. When objects collide in the Kuiper belt, they usually do so at great speeds. However, Ultima Thule doesn't seem to show and remnants that would indicate a violent merger.
Researchers explain that it is very likely that in the distant past, both lobes (Ultima and Thule) orbited each other before merging into one.
Had the two lobes merged violently, we would see scars on both lobes.
"They would be very heavily damaged, if not catastrophically destroyed, by such collisions," revealed Stern.
Water and organic material
Surprisingly, NASA has revealed that the farthest world ever explored by mankind is home to both water and organic molecules o its surface.
In a recently published paper in the scientific journal Science, NASA researchers explain the discovery of a mixture of methanol, water ice and organic molecules on the surface of the object. The researchers describe the elements as "very different from most icy objects explored previously by spacecraft."
"We're looking into the well-preserved remnants of the ancient past," said New Horizons Principal Investigator Alan Stern, of the Southwest Research Institute in a statement.
"There is no doubt that the discoveries made about Ultima Thule are going to advance theories of solar system formation."
No Moons, lightly bombarded, dark, and flat
A recent analysis of the enigmatic object has revealed that Ultima Thule makes its way around the sun without any satellites. When New Horizons flew past the object on New Year's Eve (Pacific time), flying within 2,200 miles of its surface, it registered no traces of any ring systems around it.
Despite this, astronomers have found that its extremely dark surface is lightly cratered.
Ultima Thule reflects no more than 12% of the light that hits its surface. Experts note that its surface has three different types of bright patches.
Ultima Tule bears circular or oval spots; lanes that are either straight or slightly curved; and what experts described as broad, diffused regions. It remains unclear as to how these patches came into existence.
However, they seem to be "generally correlated with low regions," Stern revealed.
And the object appears to be unusually flat. Ultima is wider than Thule, research has revealed.
As revealed by New Horizon mission specialists, their spacecraft is now 4.1 billion miles (6.6 billion kilometers) from Earth, operating normally and speeding deeper into the Kuiper Belt at nearly 33,000 miles (53,000 kilometers) per hour.