The massive, six-engine aircraft has a wingspan of 117 meters and achieved a top speed of 189mph during the first test flight.
After years of development in the desert north of Los Angeles, a gigantic mega jet with six engines and the wingspan the size of a football field took the skies for the first time ever.
The massive airplane is wider than any other airplane on the planet, and weighs half a million pounds, according to a CNN report. The twin-fuselage plane incorporates parts from two Boeing 747 jumbo jets.
The world's largest airplane, developed by futuristic company Stratolaunch has a dual fuselage design and a wingspan larger than the length of a football field.
The massive airplane launched from the Mojave Air and Space Port in the U.S. state of California at 6:58 a.m. Pacific Time, according to a release of Stratolaunch. The record-breaking airplane achieved a maximum speed of 189 miles (302.4 km) per hour while remaining in the sky for more than two-and-a-half hours, flying over the Mojave Desert at an average altitude of 17,000 feet.
"What a fantastic first flight," explained Jean Floyd, CEO of Stratolaunch.
"Today's flight furthers our mission to provide a flexible alternative to ground-launched systems. We are incredibly proud of the Stratolaunch team, today's flight crew, our partners at Northrup Grumman's Scaled Composites and the Mojave Air and Space Port."
Why build such an aircraft?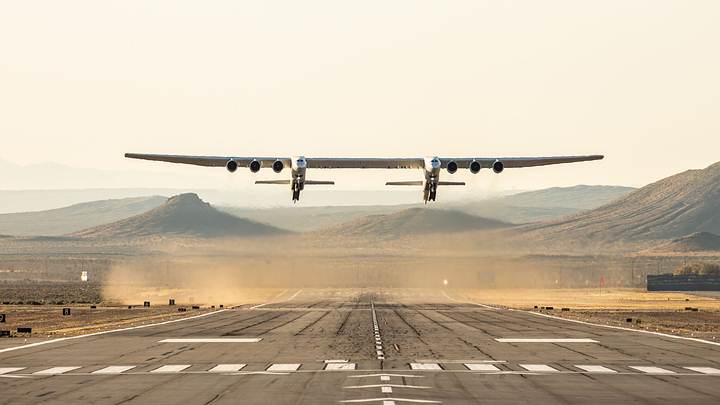 Basically, the Stratolaunch aircraft is a giant flying launch pad. It was designed to launch satellites into low Earth orbit.
Its goal is to offer the military, private companies and even NASA a more economical way to fly to space, since it eliminates the need for launch platforms and all the expensive equipment and infrastructure that surrounds a traditional rocket launch, in addition to saving on fuel costs – because the plane burns less fuel than a traditional rocket when it takes off from Earth.
So far so good
Stratolaunch said the test team performed a variety of flight control maneuvers to calibrate speed and test flight control systems.
The launch was closely followed by NASA.
"A historic milestone for the #Stratolaunch team with this record-setting aircraft taking flight! This is about going to the edge of space and beyond!" tweeted Thomas Zurbuchen, associate administrator for NASA Science Mission Directorate.
"I only wish the late @PaulGAllen could see this – his memory and impact live on," he tweeted.
Stratolaunch was founded by the late Microsoft co-founder Paul Allen in 2011 to help develop and design a large carrier airplane as a flying launch pad for orbital-class rockets.
Share Now