"Our identification of so many modes in real data shows that the atmosphere is indeed ringing like a bell..."
A group of researchers from the University of Hawaii and the University of Kyoto have discovered that our planet's atmosphere rings similar to a giant bell. The study was published in the Journal of the Atmospheric Sciences.
---
According to researchers, the energy traveling through the skies, generated by variations in atmospheric pressure and the gravitational pulls of celestial bodies like the Moon and the Sun, creates waves that resonate around the planet the same way sound waves do within a bell. Although the structures are different, the principle appears very much the same.
As revealed by the researchers, the atmospheric waves do not rise and break stridently as their ocean counterparts do. Still, they are recognizable if one knows where to look: mobile pockets of compact air, thousands of kilometers long.
Previous studies had focused on localized spaces and limited time scales, allowing the detection of these sky waves between 1,000 and 10,000 km in length and with a frequency of several hours.
ERA5 weather database
But now, scientists have dramatically amplified this capability using the ERA5 weather database, which provides hourly estimates of many global atmospheric, terrestrial, and ocean variables within five days in real-time and contains revised historical observation sets.
Using these data, the authors of the new research, Kevin Hamilton (University of Hawaii) and Takatoshi Sakazaki (University of Kyoto), studied atmospheric pressure statistics for 38 years, focusing mainly on waves with frequencies between 2 and 33 hours and more than 5,000 kilometers long that transit around the globe at speeds of more than 1,000 kilometers per hour.
This allowed the scientists to observe that when waves move through the air at a certain height and speed, they resonate in the atmosphere, creating a phenomenon similar to how sound waves reverberate inside a bell. The study was published in the Journal of the Atmospheric Sciences.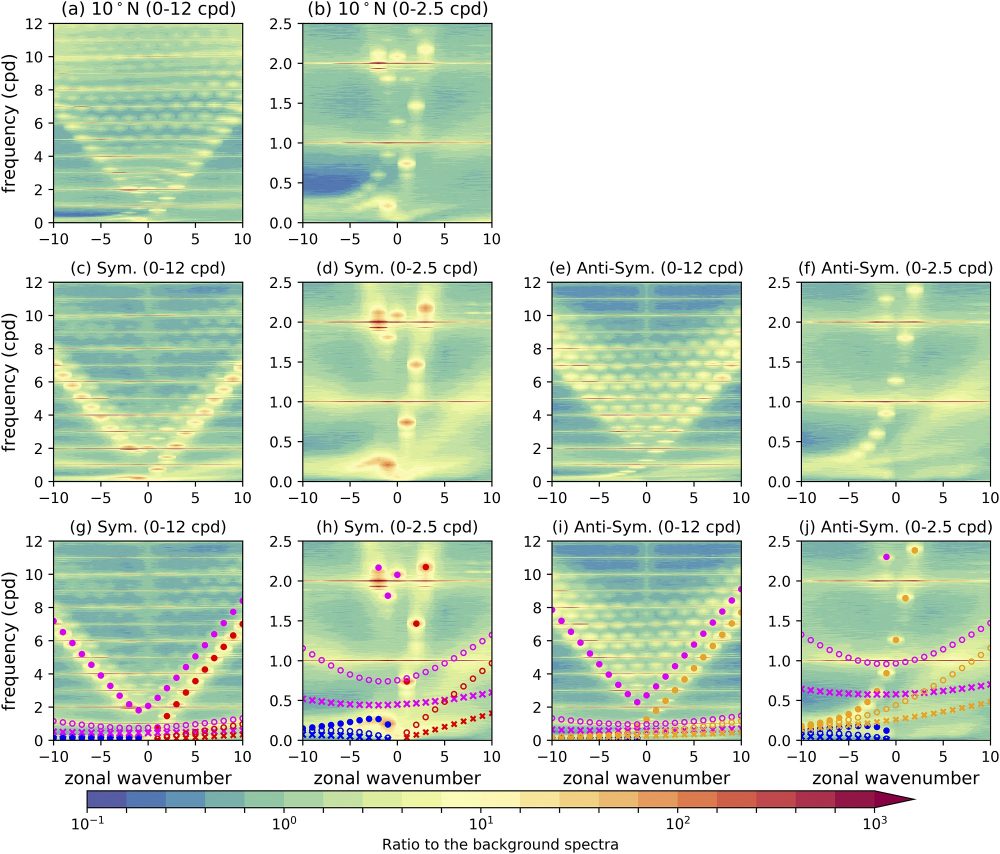 Theories from the 19th century
Interestingly, the new study presented by Hamilton and Sakazaki confirmed a theory from the 19th century. The discovery confirmed the theory of global oscillations, proposed in the 19th-century work of French physicist and mathematician Pierre-Simon Laplace. According to the researchers, the global frequencies and patterns we observed coincide with those theoretically predicted.
"It is exciting to see how the vision of Laplace and other pioneering physicists is fully confirmed two centuries later," Sakazaki said in a statement. The new study reveals how the group of researchers has identified dozens of predicted wave modes, including Rossby waves, which are low-frequency and propagate westward. Researchers also identified the presence of Kelvin waves moving eastward.
"Our identification of so many modes in real data shows that the atmosphere is indeed ringing like a bell," said Hamilton, co-author of the study. "This finally resolves a longstanding and classic issue in atmospheric science, but it also opens a new avenue of research to understand both the processes that excite the waves and the processes that act to damp the waves."
---
Join the discussion and participate in awesome giveaways in our mobile Telegram group. Join Curiosmos on Telegram Today. t.me/Curiosmos
Share Now