Some would this is nothing more than a coincidence; others would say there is none at all, but various authors point out several interesting details about the number 33, and in this case, with Earth's parallels 33 north and 33 south.
The circles of latitude are called parallels because they are parallel to each other – that is, any two parallels are everywhere the same distance apart, and no, there isn't a mystery to that.
But what exactly lies on these parallels may wake a certain degree of surprise in some.
But before we jump into that, let's take a look at the number 33.
Did you know that Jesus Christ was 33 years old at his death? The number 33 is also the most important degree that Freemasonry gives. 33 is the number of vertebrae that make up the human spine. The human foot has 33 joints. The Amon (AMEN) is the numerical equivalent of 1+13+5+14=33.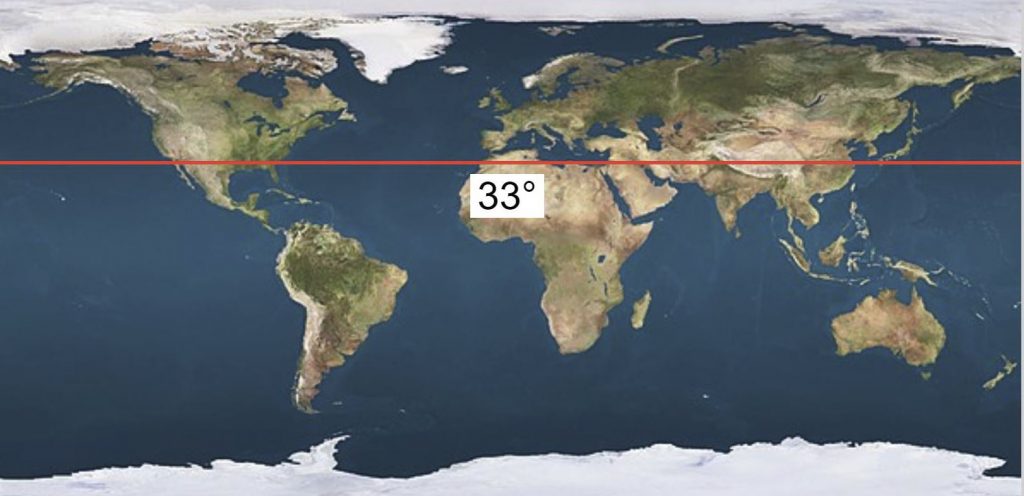 33 Parallel North / South
Some authors have linked the location of certain structures located on these parallels with a global mystery.
A conspiracy, you say? Perhaps yes, although it is still noteworthy mentioning.
If we take a look at the Northern Hemisphere of the planet, the parallel 33 happens to run across a few of major, important cities in the United States, including Dallas, Los Angeles, Phoenix, and even the town of Roswell, which is a hotspot for the UFO phenomenon.
Phoenix is where a mass UFO sighting took place, which today is known as the Phoenix Lights.
At Parallel 33 north, on February 24 to early February 25, 1942, over Los Angeles, California, the so-called Battle of L.A. took place.
Some people argue that the military fired anti-aircraft rounds at what some say was a saucer-shaped flying object. See the image below.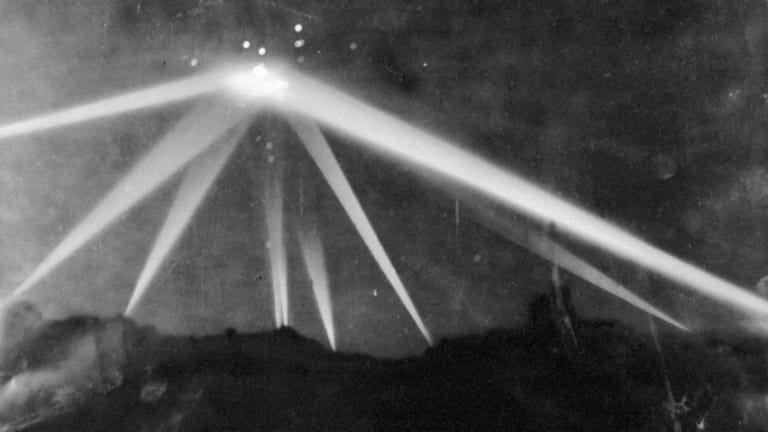 It may be a coincidence, but parallel 33 is where Roswell is found.
But did you know that John F. Kennedy was assassinated on parallel 33? Some have gone as far as to suggest that parallel 33 was specifically chosen for Kennedy's assassination.
But Robert Kennedy was also assassinated on parallel 33, in the Ambassador Hotel in Los Angeles, and US President Franklin D. Roosevelt died near parallel 33.
Furthermore, Jesus Christ predicted his own death at Caesarea Philippi, in the vicinity of the 33rd Parallel.
The first nuclear weapon was detonated n Alamogordo, New Mexico, on parallel 33. Oh and, did you know that it was the 33rd President of the United States that targeted two Japanese cities, both located near parallel 33 with nuclear bombs?
Parallel 33 acts as a junction of the rivers Tigris and Euphrates. It was there where the ancient Sumerian civilization was centered and where the Bible suggests the Garden of Eden was.
The ancient city of Damascus, considered one of the oldest on the planet's surface, is also located on Parallel 33.
In the Book of Enoch, Mount Hermon is where the Watcher class of fallen angels descended to Earth. Mount Hermon is also located on Parallel 33.
It may all be just a massive, cosmic coincidence, but it was worth sharing!
---
Join the discussion and participate in awesome giveaways in our mobile Telegram group. Join Curiosmos on Telegram Today. t.me/Curiosmos