A long-lost civilization in the middle of the Amazon revealed thanks to technology.
As we continue to explore the planet, we come by many discoveries that effectively rewrite our history.
The Amazon is perhaps one of the least explored regions on Earth. But as technology improves, so does our understanding of some of the most remote and inaccessible parts of the planet.
Parts of the Amazon rainforest that were once thought to have been completely void of habitation were actually home to a prosperous, ancient civilization buried beneath centuries of soil and jungle, researchers revealed.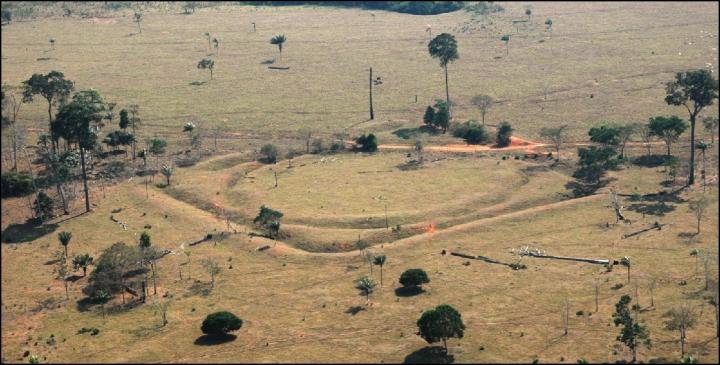 Barely visible structures
Today, not much remains of this ancient civilization, except for sporadic mounds, that are most of the time encompassed by shallow ditches.
But thanks to satellite imagery, researchers have been able to map the region, discovering evidence of countless structures that once belonged to a thriving Amazonian civilization, dating back to 1250 AD.
A Massive Civilization
But make no mistake, this was not a small society by any means. In fact, archeological studies have revealed that this mysterious, previously-unknown ancient Amazonian civilization may have been home to more than one million people, spread across various settlements.
This only tells us that many parts of the Amazon, once thought to have been untouched by man, are actually long-lost gardens that have been reclaimed by nature.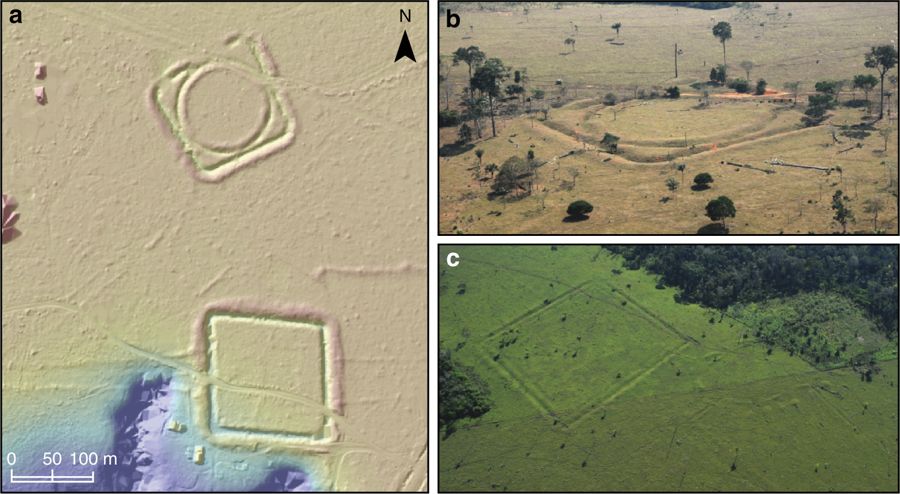 A massive area
As noted by a statement by the University of Exeter, thanks to the analysis of charcoal remain, as well as excavated pottery fragments; scientists were able to identify a 1,800 km stretch of southern Amazonia that is believed to have been continuously occupied from 1250 until 1500 by people living in a series of fortified villages.
According to archeologists, they estimate that between 1,000 and 1,500 enclosed villages existed in the region, and many of them remain hidden deep beneath dense layers of vegetation.
As many as two-thirds of these sites are yet to be found.
A study has shown that an estimated 1,300 geoglyphs stretch across 400,000km2 of Southern Amazonia.
"There is a common misconception that the Amazon is an untouched landscape, home to scattered, nomadic communities. This is not the case. We have found that some populations away from the major rivers are much larger than previously thought, and these people had an impact on the environment which we can still find today," revealed Dr. Jonas Gregorio de Souza from the University of Exeter's Department of Archaeology.
"The Amazon is crucial to regulating the Earth's climate, and knowing more about its history will help everyone make informed decisions about how it should be cared for in the future."
How satellite images, LiDAR, and aerial photography are helping
And many of these discoveries would not have been possible were it not for satellite images, aerial images, and technologies such as LiDAR.
As noted by the Discover Magazine, software life Google Earth has revolutionized the way archeologists study our past.
LiDAR technology has also played a huge role in archaeology in the last couple of years, successfully changing how archaeologists study the past.
Lidar is a surveying method that measures the distance to a target by illuminating the target with pulsed laser light and measuring the reflected pulses with a sensor. Differences in laser return times and wavelengths can then be used to make digital 3-D representations of the target.
Not long ago, archeologists used LiDAR technology to find ancient Maya farms in the Mexican wetlands suggesting the ancient civilization grew a surplus of crops, especially cotton, supporting an active trade with neighbors in the Yucatan Peninsula.
---
Join the discussion and participate in awesome giveaways in our mobile Telegram group. Join Curiosmos on Telegram Today. t.me/Curiosmos
Share Now