Crafted more than 2,000 years ago, there is not a single trace of rust on the sword and it remains as sharp as the day it was crafted.
The sword of Goujian was crafted more than 2,000 years ago by an exceptional weaponsmith in China.
Found more than two millennia later, archeologists were baffled to find that the sword's blade was as sharp as the day it was first crafted, showing no signs of tarnish whatsoever.
An archeological mission excavated the sword during excavations of fifty ancient toms belonging to the period of the Springs and Autumns (722 to 481 BC) in China's Hubei Province.

While the ancient tombs reveal a plethora of ancient artifacts, one of those tombs was decorated by a sensational weapon whose structure and sharpness had not been changed despite being crafted more than 2,000 years ago.
The sword was recovered from the tomb and was eventually moved to the Hubei Provincial Museum, where it was carefully sheltered in a virtually airtight lacquered wooden box.
A Sword unlike any other
Measuring 55.6 cm long and having a weight of 875 grams, the ancient weapon was a true ancient masterpiece manufactured with an alloy of copper and Tin.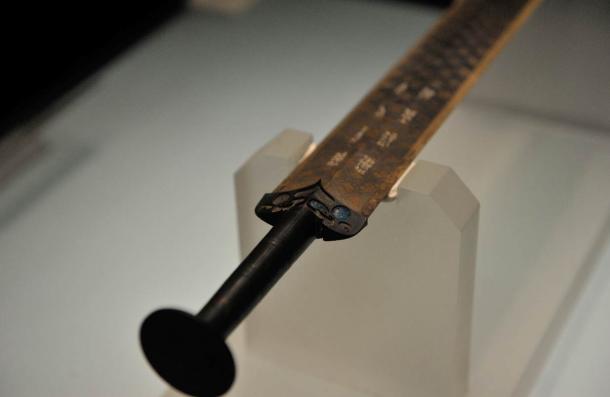 It was intricately decorated with both blue and turquoise crystals, covered with ancient ideograms.
The sword's gilt was wrapped in silk moorings, while 11 concentric circles formed the weapons knob.
The exact meaning of the symbols carved on the sword was not immediately clear. However, scholars in the traditional Chinese language eventually deciphered the inscriptions and translated their meaning.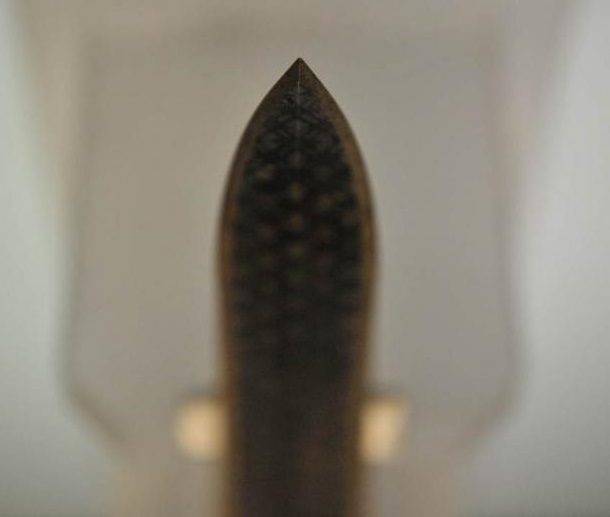 The sword belonged to King Goujian (496 – 465 BC), and it was referred to as the Goujian Sword.
With not a single trace of rust on it, the scholar studying the sword could not believe the condition the sword was inf after more than 2,000 years.
Its blade was as sharp as day one, almost as if time had not affected the sword.
It is likely that the chemical composition, along with the almost airtight scabbard, led to the exceptional state of preservation.
Its unprecedented quality, its intricate decoration, and rich history made sure to save a spot for this formidable, time-defying weapon in the list of the most exotic and rare swords ever discovered in China.
Damage to the sword
Even though the sword remained nearly untouched for 2,000 years, in 1994, the Sword of Goujian was loaned for an exhibition in Singapore and damaged.
As the sword was being removed from its case, the person in charge knocked the weapon, causing a 7mm-long crack to appear on the sword.
Since the incident, China has not allowed the sword to be taken out of the country.
---
Join the discussion and participate in awesome giveaways in our mobile Telegram group. Join Curiosmos on Telegram Today. t.me/Curiosmos
Share Now