"They [the saucers] were described as being circular in shape with raised centers, approximately 50 feet in diameter. Each one was occupied by three bodies of human shape but only three feet tall, dressed in metallic cloth of a very fine texture..."
UFOs have become an actual thing. Go back some ten years ago, and speaking "I saw a UFO" would probably result in you being ridiculed or called a conspiracy nut. Nonetheless, millions of people worldwide believe in UFOs and that these unidentified flying objects are vehicles not from Earth. People are convinced—and now more than ever—that the origins of unidentified flying objects lie far from Earth, and some even say they come from distant galaxies.
This idea has become ever so widespread. We can significantly thank these videos, revealed to the world a few years ago, for the UFO subject's abrupt and nearly magical transformation from something no more than a conspiracy, to a subject worthy of the most serious scientific consideration. This unprecedented revolution in the UFO subject has raised numerous questions about our existence, life in the universe, and our technology's origin. Long have people talked about how our most revolutionary technology isn't ours and that we can thank "visitors" from other worlds for our abrupt technological leap.
Do you believe in UFOs?
I believe in UFOs. And when I say that I believe in them, I am actually saying that I don't find it too hard to believe that humankind isn't the only "technologically advanced" species in the universe. I think it is entirely plausible that there are species in the universe that are explorers like us. They wonder whether there is life out there, just as we do. They explore their solar system and nearby galactic neighborhood, just as we are connecting to do.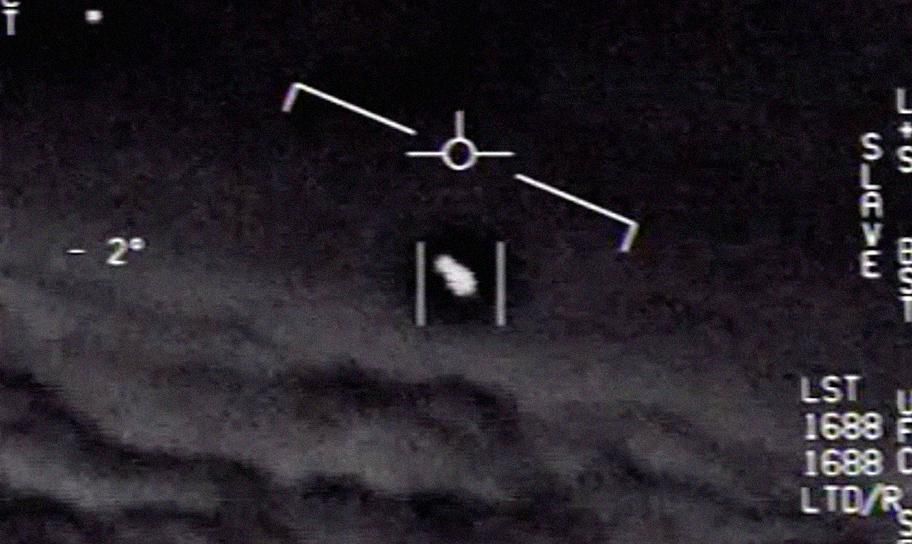 But unlike us, they are likely far more advanced and possess technology that allows them to travel great distances in short periods of time. That's why I believe that UFOs are likely explorers from faraway star systems, galaxies, and even perhaps universes. This is why I don't find it surprising that governments around the world have revealed—finally—their interest in UFOs. This is also why I believe that the government—and when I say government, I refer to that of many countries—has tried very hard to keep their study of these "alien" objects from becoming something that is "common knowledge."
Can you imagine if one country on Earth came across advanced technology—alien technology? How big of an advantage would one country have over the others if they find weaponry that is not from Earth? So, when you think about these subjects, it becomes unsurprising why the government has tried to keep its study of UFOs a secret for so long.
Keeping record
But secrets are apparently meant to be told. The FBI, CIA, and other governmental agencies keep a record of their investigation of different subjects. The study of UFOs—it would seem—is something of a sweet spot for them. Many of their studies of the phenomenon have been declassified throughout the years, and much of the world was done by The Black Vault. When speaking about UFOs, one cannot bypass Roswell and what is considered the most famous UFO case in the history of humankind.
But even though Roswell is one of the most-talked-about cases, it isn't the most searched for. At least not, according to the FBI. The FBI has declassified hundreds of official "UFO reports" in recent years, several of them under the label of "unexplained phenomena." It is precisely in this last category that one of the most-viewed secret documents of all time is found; the "Guy Hottel Memo."
It is a single page dated March 22, 1950, which describes briefly, but in an extremely detailed way, the sighting of three flying saucers that "were recovered in New Mexico" and spotted by US Army radars. The report is obviously an all-time favorite to UFO hunters. To this date, the declassified document continues to arouse passion and, above all, a lot of curiosity in the UFO community.
The FBI's Most Viewed UFO File
The author was the head of the FBI Washington office, and, as was the case with all classified documents produced by the agency at that time, he reported to Director Edgar Hoover. The document describes the following:
"They [the saucers] were described as being circular in shape with raised centers, approximately 50 feet in diameter. Each one was occupied by three bodies of human shape but only three feet tall, dressed in metallic cloth of a very fine texture. Each body was bandaged in a manner similar to the blackout suits used by speed fliers and test pilots."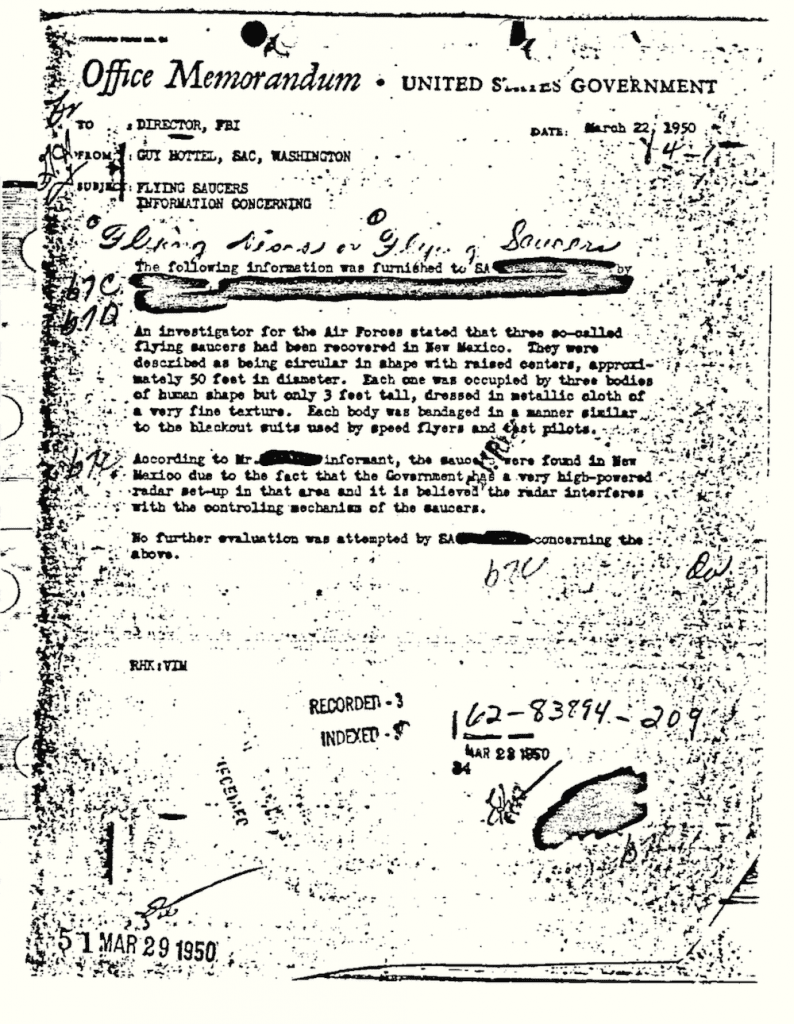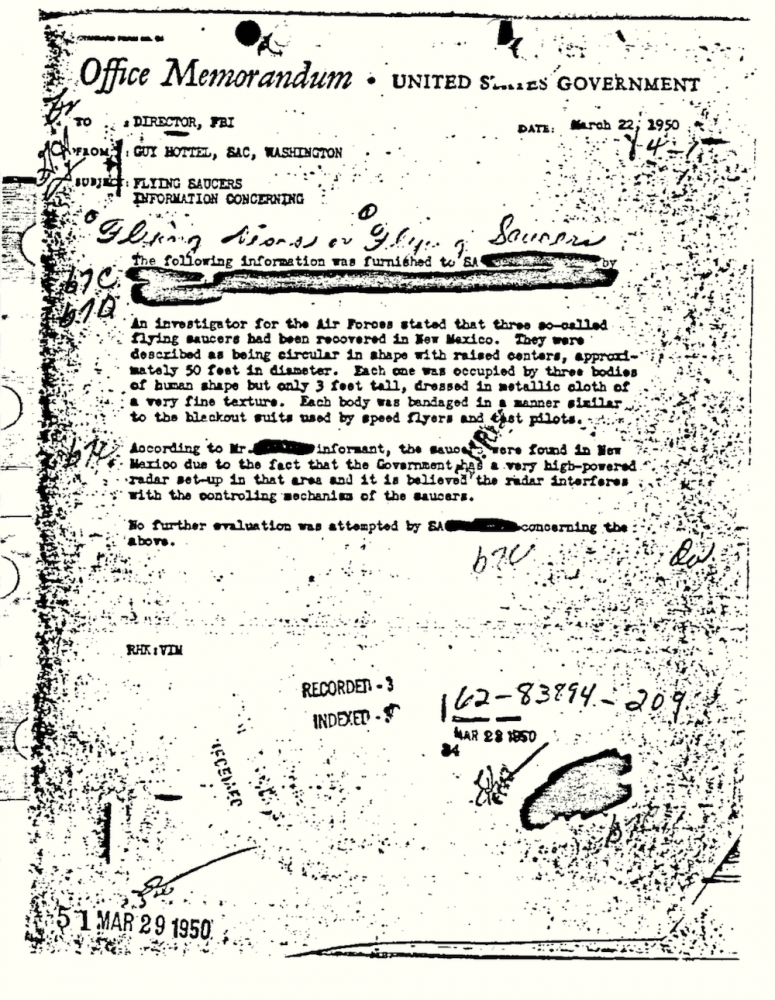 Many Ufologists and UFO hunters have linked this document to the famous Roswell case (New Mexico) and the alleged discovery of extraterrestrial corpses. However, the dates prove no connection between the two events whatsoever, as Hottel's story was written almost three years after the controversial case (July 8, 1947).
The most fascinating detail of the memo is perhaps the paragraphs explaining that the flying saucers had been identified thanks to government-owned "high-power-radar" installed near the area above which the UFOs flew and that the radars interfered with the "controlling mechanism of the saucers." However, for some weird, perhaps even absurd reasons, the memo ends by revealing that "no further evaluation was attempted."
---
Join the discussion and participate in awesome giveaways in our mobile Telegram group. Join Curiosmos on Telegram Today. t.me/Curiosmos.
All sources and references are linked throughout the article.
Share Now