Two of the largest stones of Puma Punku weigh 131 tonnes and 85 tons respectively.
Two of the largest stones of Puma Punku weigh 131 tonnes and 85 tons, respectively. These massive boulders were carved from quarries located more than 10 kilometers away. How the ancients transported the massive blocks of stone to where they stand today remains a profound mystery. Experts argue that Puma Punku's builders were an extremely developed society with advanced knowledge in stone-cutting techniques and descriptive geometry.
There are countless ancient structures scattered across the globe that prove that history as we know it is just one small part of a massive archeological puzzle waiting to be completed. That's probably one of the reasons why people love history so passionately. Understanding the very origin of some of the most ancient civilizations and figuring out how they constructed some of the greatest ancient wonders on the planet is what drives our curiosity.
Although many people are familiar with famous archeological sites such as the Great Pyramid of Giza, the Step Pyramid at Saqqara—the first ancient Egyptian Pyramid—, or the pyramids at Teotihuacan in present day-Mexico, many other ancient sites are equally, if not more puzzling. Stonehenge is another example. But South America is home to some pretty strange and inexplicable sites. One such site is located near Lake Titicaca, the largest lake in South America by surface area and water volume. It is often referred to as the "highest navigable lake" globally. Around the lake, numerous ancient cultures developed even before history was being written.
Tiwanaku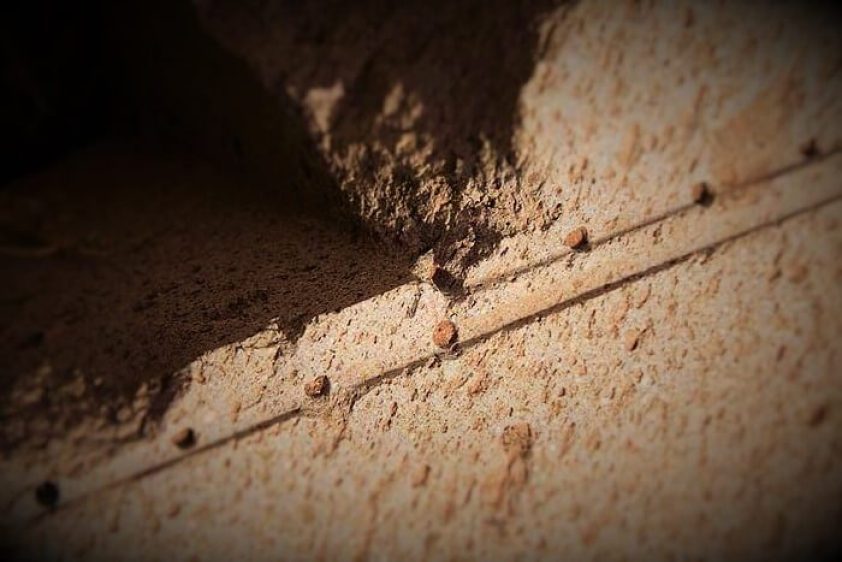 One of the most notorious ancient civilizations that developed near the lake is the ancient Tiwanaku culture. This ancient culture is responsible for constructing an ancient complex known today as Tiahuanaco. It is one of the largest sites in South America. Essentially, Tiahuanaco is thought to have been a city and temple complex, home to plazas, residential buildings, temples, and even pyramids.
The Pyramid found at Tiahuanaco is a step pyramid known as Akapana. As revealed by Pyramidomania, "the Akapana is a morphed, cross-shaped pyramid measuring 257 meters wide. It is 197 meters broad at its maximum point. It was built to a height of nearly 17 meters. The Pyramid features a sunken court at its center. On the western side of the structure, we see a staircase decorated with sculptures."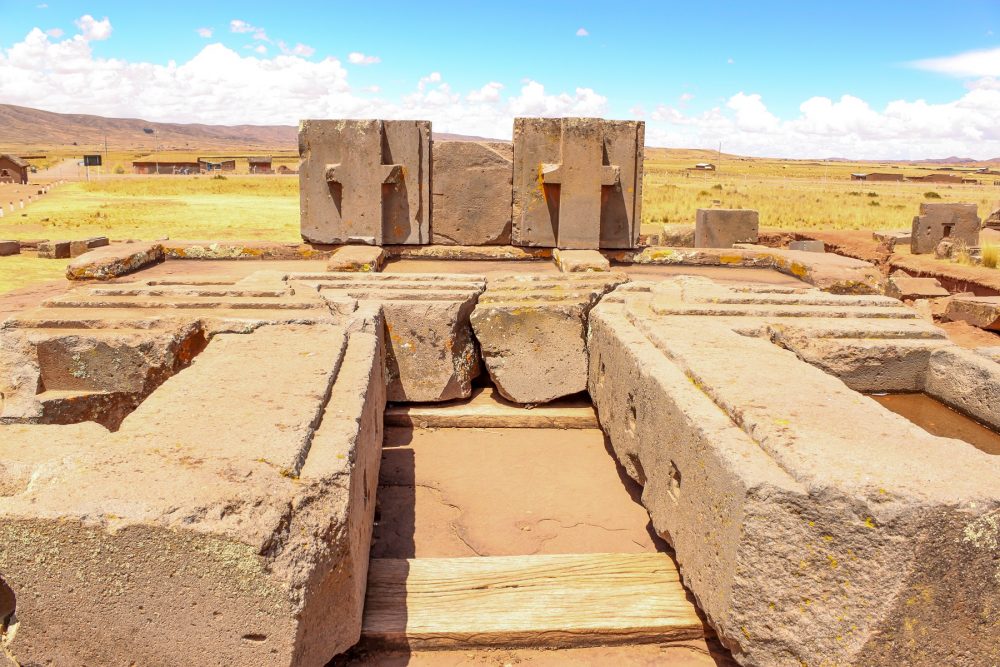 Archaeological surveys of Tiwanaku revealed that the largest blocks used in constructing the Pyramid weigh nearly 67 tons. However, Tiahuanaco and its broader area are home to many more megalithic structures and stones.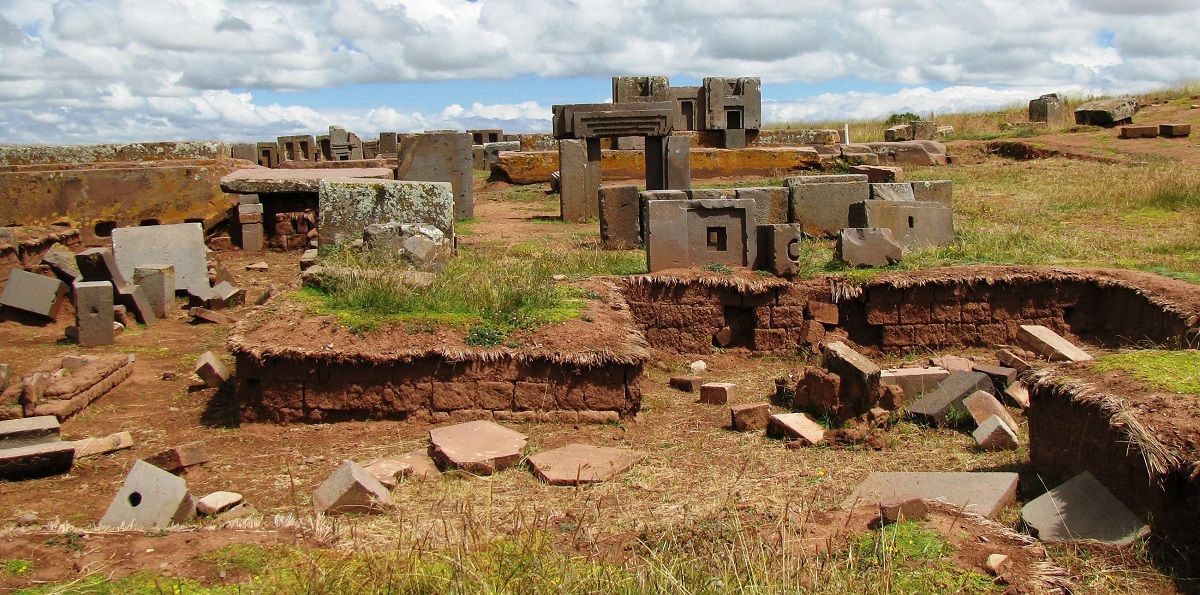 One of the most interesting is Puma Punku. Located southwest of the Kalasasaya Temple in Aymara, Puma Punku's name means "La Puerta del Puma" or the "Door of the Puma." The complex consists of an unwalled western court, a central esplanade, a mound of megalithic stone terraces, and a walled court to the west. The site displays some of the most impressively carved megalithic stones in the world. Some of these massive boulders were carved with laser-like precision. Many of the stones display magnetic anomalies.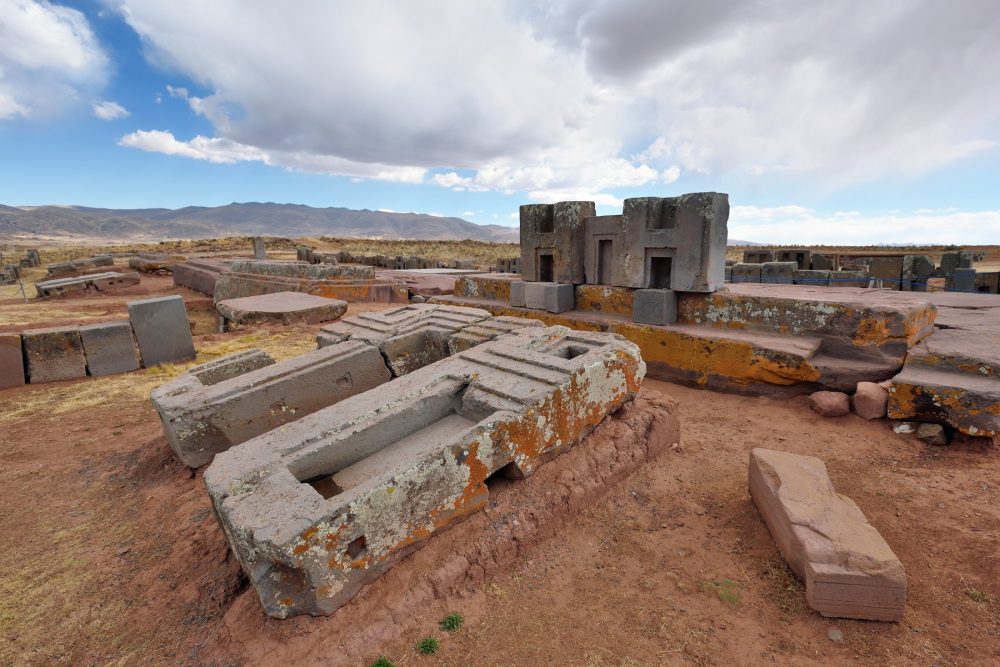 The entire Puma Punku complex is made up of megalithic blocks. The site is actually a terraced earthen mound atop which the builders placed massive blocks of stone. Measuring 167 meters wide along its north-to-south axis and 117 meters long at its east-to west-axis, the eastern part of Puma Punku is occupied by what experts call the Lithic Platform or Plataforma litica. This structure is made up of a stone terrace measuring 6.75 by 38.72 meters (22.1 by 127.0 feet) in dimension.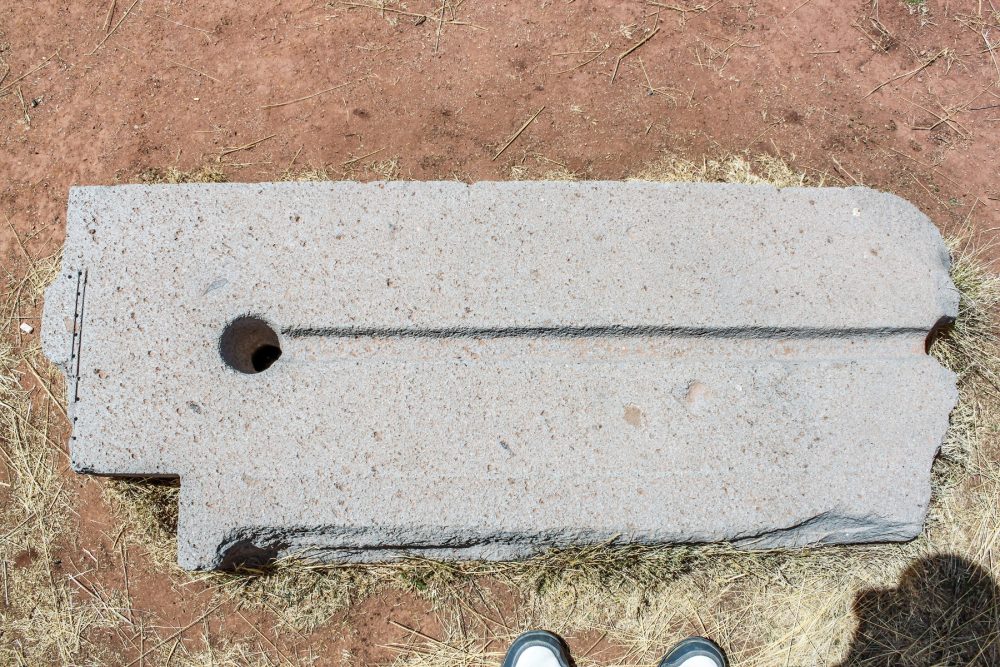 Additionally, this particular structure consists of the largest stone slab found anywhere in the region. There isn't a single larger stone at Puma Punku or Tiahuanaco. This massive stone slab measures  7.81 meters (25.6 feet) long, and 5.17 meters (17.0 feet) wide. It is more than 1 meter (3 ft 6 in) thick. Its weight is out of this world. This stone slab has been estimated to weigh 131 tons. This behemoth stone was carved from red sandstone.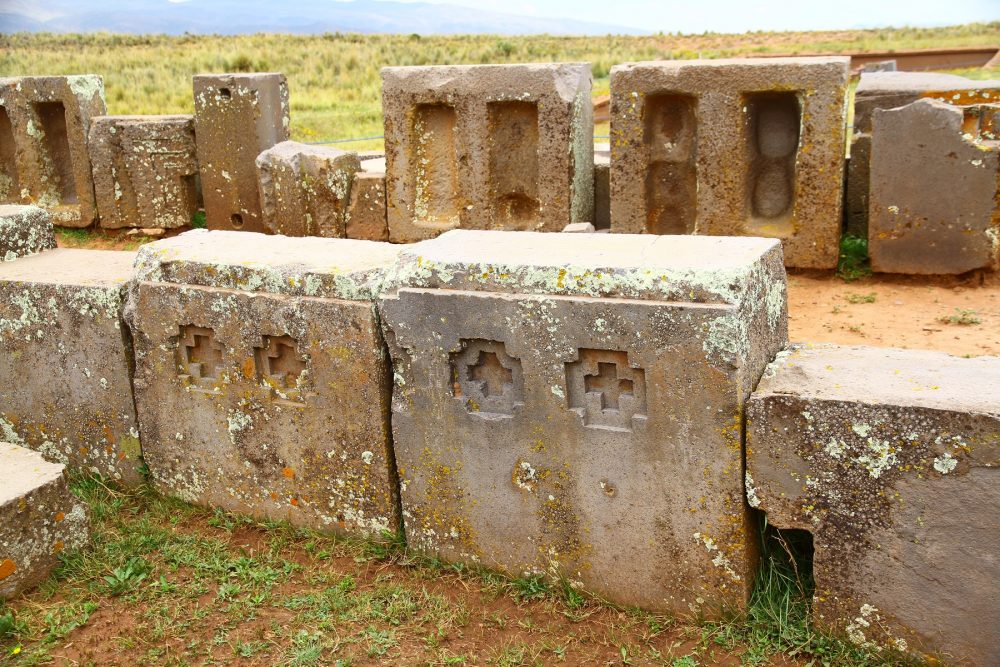 However, red sandstone is not the only material used at the site. Archaeological excavations have revealed that the builders of Tiahuanaco used a mixture of red sandstone and andesite to build some of the largest structures.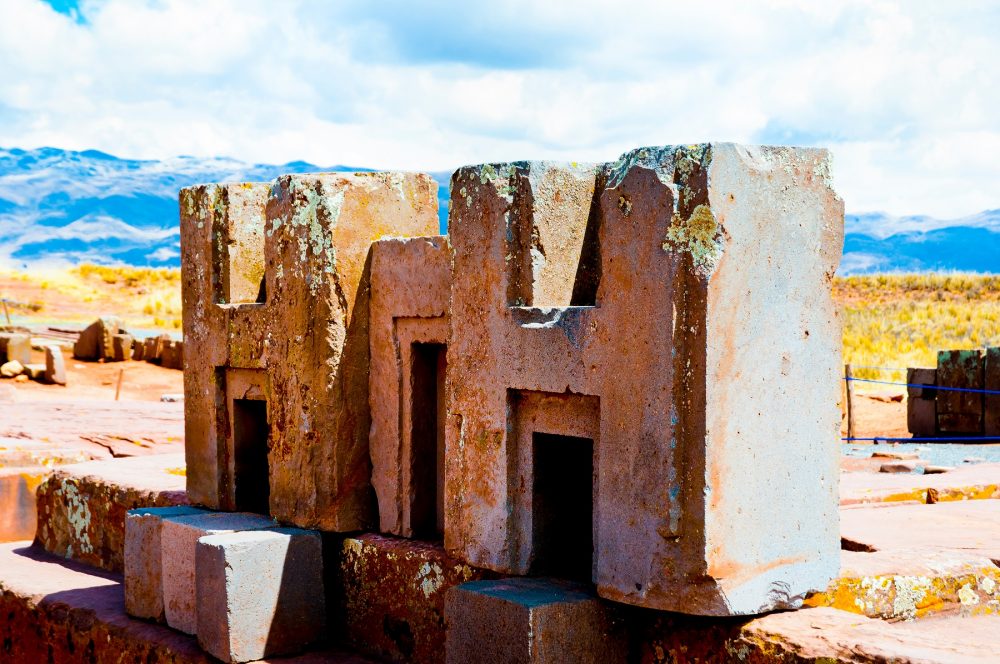 Although the age of Puma Punku remains highly debated, archaeologists agreed that three major building stages, in addition to more minor preparation and remodeling eras, attest to the site's ancient origin. Arthur Posnansky, a well-respected archaeologist, thought that Tiahuanaco was approximately 11,000–17,000 years old. Posnansky's dating of the site was based on the geological eras as well as archaeoastronomy.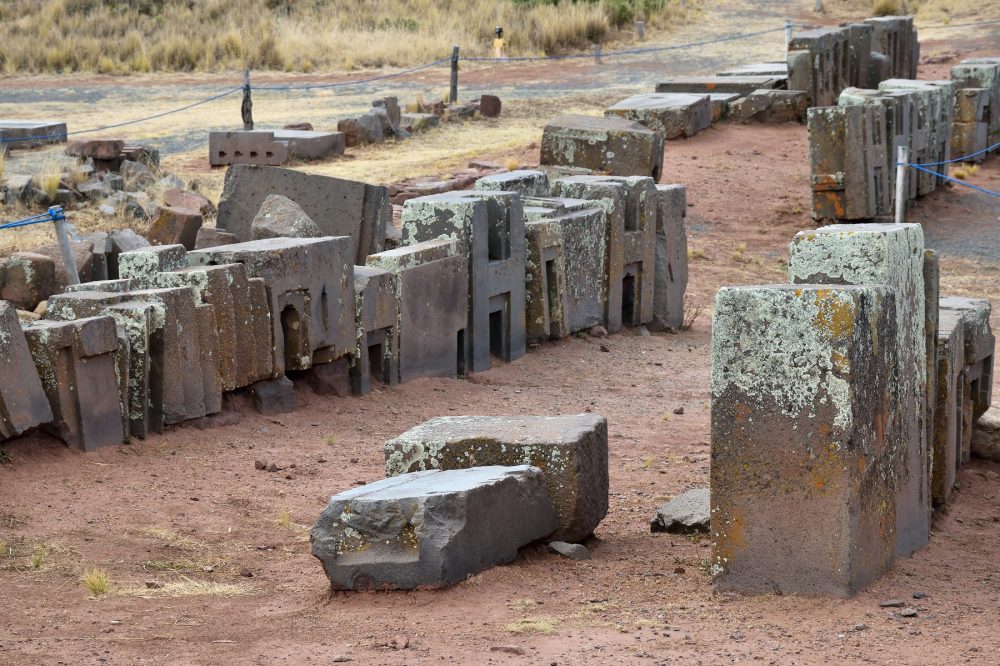 However, Andean specials W. H. Isbell notes that based on Alexei Vranich's radiocarbon dates, the oldest layer of mound-fill forming the Pumapunku complex can be traced back to a period around  536–600 AD.  This means the site is around 1,500 years old. This relatively young age is highly contested by several authors.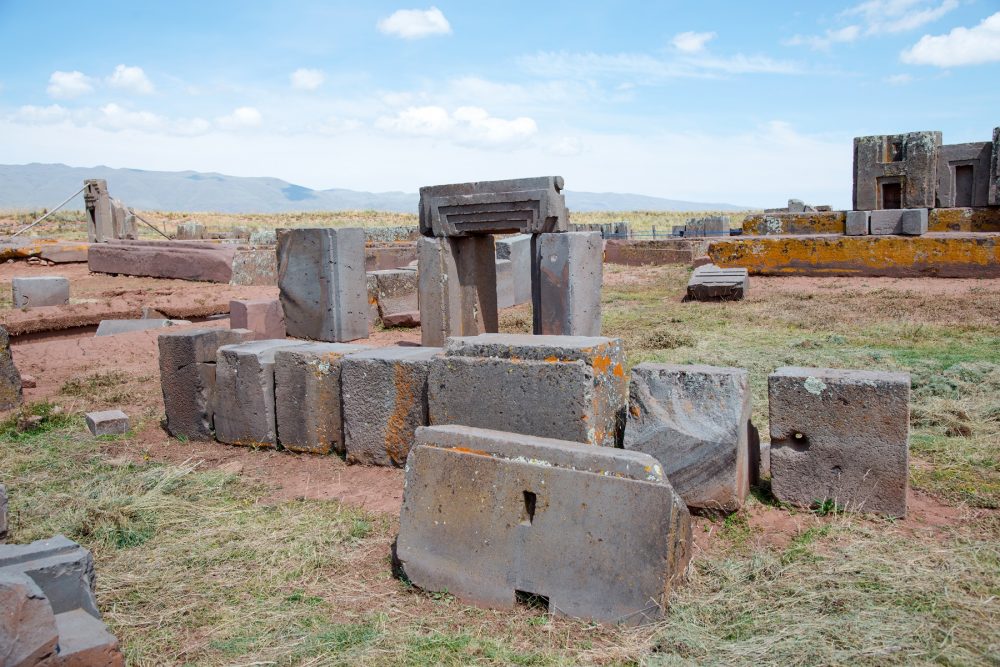 The blocks used in constructing the Puma Punku Complex are gigantic. The largest stone has an estimated weight of 131 tons. It measures 7.8 meters in length and 5.1 meters in width and thickness, just above one meter. The second-largest stone at the site is 7.9 meters in length, and 2.5 meters in width, averaging just above 1.8 meters in thickness. This stone has an estimated weight of just over 85 tons. As revealed by archaeological surveys in the 1970s, both of these stones are part of the largest structure at Puma Punku, the Lithic Platform, or Plataforma litica.
Chemical analysis and archeological surveys have revealed that the enormous stones at Puma Punku originated in distant quarries. The stones were transported up a steep hill and originated around 10 kilometers away near Lake Titicaca. Some of the smaller, although still multi-ton, stones originated from even more distant quarries, some of which are located more than 90 kilometers away and even across Lake Titicaca.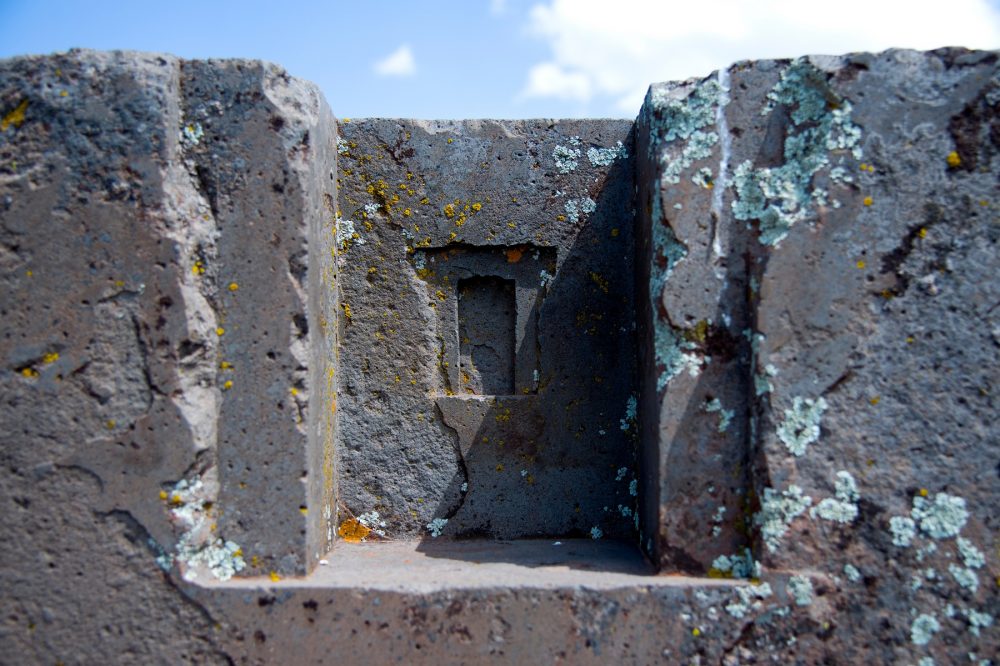 The ancients' exact transportation techniques to get the stones from their quarries to Puma Punku remains a profound mystery, although scholars argue this was achieved with the help of a massive labor force. Other theories suggest that the ancient Tiwanaku future may have used llama skin rope, ramps, and inclined planes to move the supermassive blocks. However, all of these theories are speculative and inconclusive.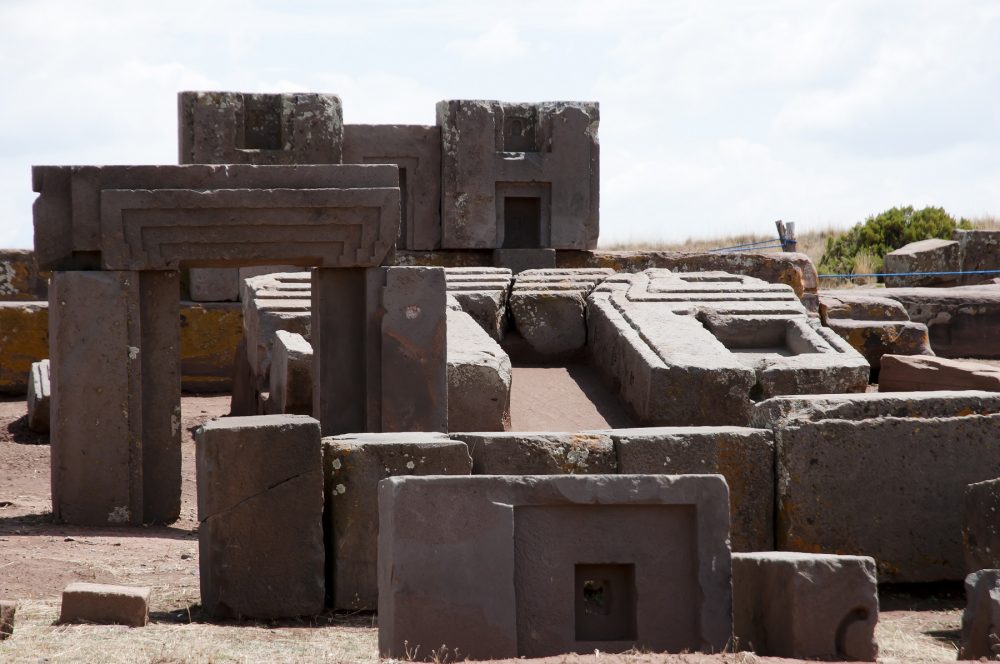 The stonemasonry skills present at Puma Punku are mind-boggling. Each stone at Puma Punku was cut with great care to fit with the surrounding rocks. The megalithic boulders fit together like a giant puzzle, forming load-bearing joined achieved without mortar use.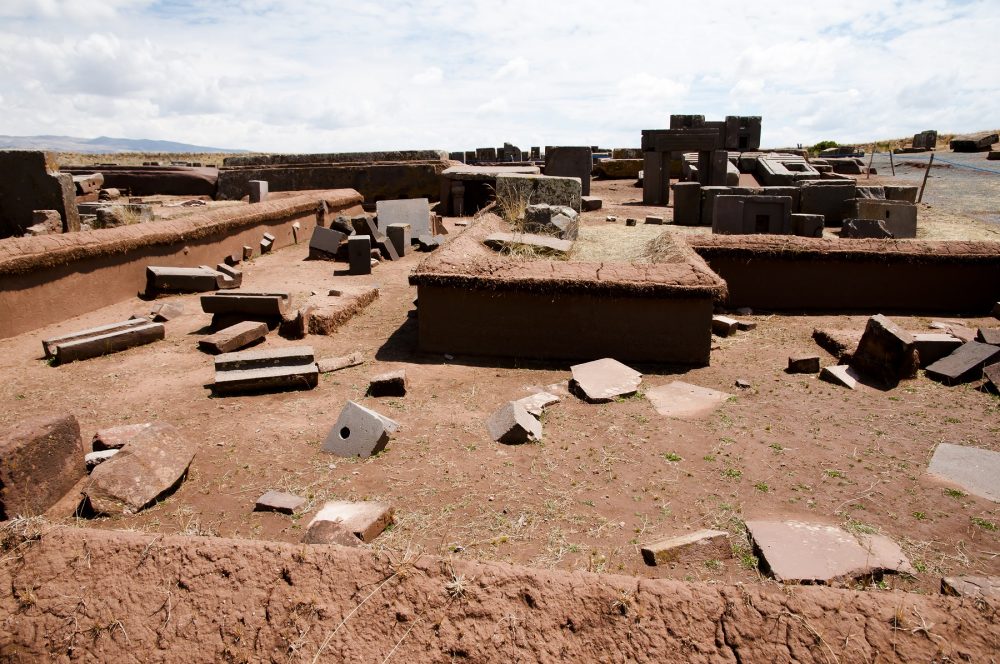 The precision with which the angles were created to create flush joints is overwhelming. But it tells us that whoever carved and constructed Puma Punku and its surrounding site had a sophisticated knowledge of descriptive geometry and advanced stone-cutting techniques. As a result, most of the joints at Puma Punku are so precise that not a single piece of paper can fit between the stones.
The stone blocks present at Puma Punku and Tiahuanaco were so precisely cut that some authors and scholars have suggested the possibility of prefabrication and mass production. If accurate, it would mean that the Tiwanaku culture possessed technologies far in advance of cultures that came later in history. Despite the extreme precision and unknown transportation techniques used by the Tiwanaku culture to move their massive blocks of stone, experts say that the site's stones were shaped with ordinary stone hammers.
Tiwanaku and its surrounding areas were likely home to a massive civilization of more than 400,000 people more than one thousand years ago.
---
Join the discussion and participate in awesome giveaways in our mobile Telegram group. Join Curiosmos on Telegram Today. t.me/Curiosmos
Share Now