One of the hidden ancient wonders of India--the Stepwell of Chand Baori.
Innumerable ancient sites around the globe wake a particular interest in people. Some are mind-bending because of their size, some are unimaginably beautiful because of their shape, while other sites leave us breathless because of their intricate design.
When speaking about ancient sites, most people are taken over by the beauty of the Pyramids of Egypt or the countless ancient sites in South America dating back thousands of years. The truth is it would be nearly impossible to name and not forget all the ancient sites that have been built on Earth through countless millennia.
There's a magical ancient site not many have heard of in India.
It's called the Stepwell of Chand Baori, and it is home to 3,500 narrow steps, more than 13 levels high.
It's so massive that experts considered it the most extensive and deepest stepwells ever built in India.
Located in the village of Abhaneri in the state of Rajasthan, this magical ancient site is located not far from the temple of Harshat Mata—Goddess of Joy and Happiness.
Stepwells like Chand Baori were built to allow people to easily reach groundwater, allowing them to manage their resources freely.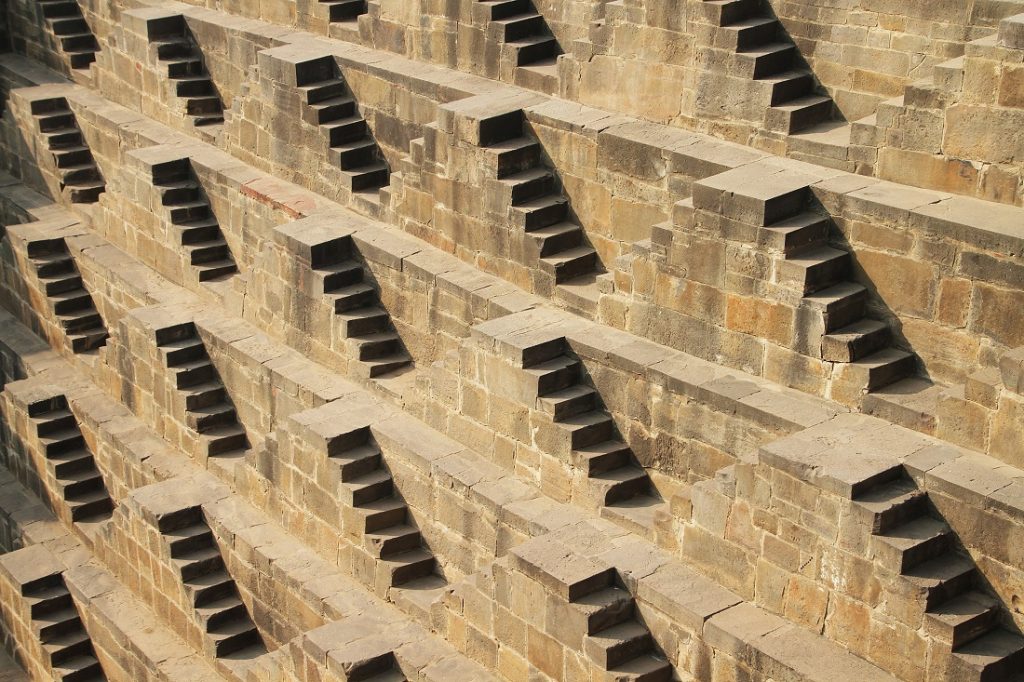 But whoever designed and created Chand Baori went far beyond simplicity. This solution turned out to be one of the most fascinating ancient sites ever envisioned.
It was built in the 9th century and is 30 meters deep.
Both the stepwell and its nearby temple were built when King Chand ruled the land.
Legends tell that the stepwell of Chand Baori was built in a single night by ancient spirits and not by the hands of humankind.
The structure itself was built with the shape of an inverted cone. The stunning stepwell also features small temples where people would take place in rituals and ceremonies.
In addition to the above, Chand Baori includes numerous storage rooms and the stepwell served both as a gathering place and a storage facility where people could access food and water during the harshest times of the year.
At the bottom of the well, the air would remain 5-6 degrees Celsius cooler than at the surface.
Chand Baori was used as a large community gathering place for locals during periods of intense heat.
One side of the well has a pavilion and resting room for the Royals.
---
Join the discussion and participate in awesome giveaways in our mobile Telegram group. Join Curiosmos on Telegram Today. t.me/Curiosmos
Share Now