Perched on Bali's Mount Lempuyang, the ancient Lempuyang Temple is a complex of seven Hindu temples, said to be the island's oldest. The highlight of this revered site is the "Gate to Heaven," a popular attraction that offers breathtaking views of the mountain landscape.
The Lempuyang Temple, also known as Pura Luhur Lempuyang, is one of Bali's oldest and most highly regarded ancient temples. Sitting at around 600 meters, this temple is believed to predate all other Hindu Temples on Bali. The temple is one of a complex of temples that adorn the already beautiful landscape at the top of Mount Lempuyang, one of the holiest mountains on the Island.
There are seven temples, one home to the popular "Gate to Heaven," the stunning ancient ark that greets its visitors. Once there, looking through the gate on a clear day offers a stunning view of Mount Agung framed within its sides. Beyond the gate, three beautiful nāga-lined staircases will take its visitors to the lowest temple.
The temple's importance resides in being considered one of the six holiest places on the island. The temples of Mount Lempuyang, represented by the highest pura at the peak of Mount Lempuyang, Pura Lempuyang Luhur, is one of the Sad Kahyangan Jagad, or the "six sanctuaries of the world," the six holiest places of worship on Bali.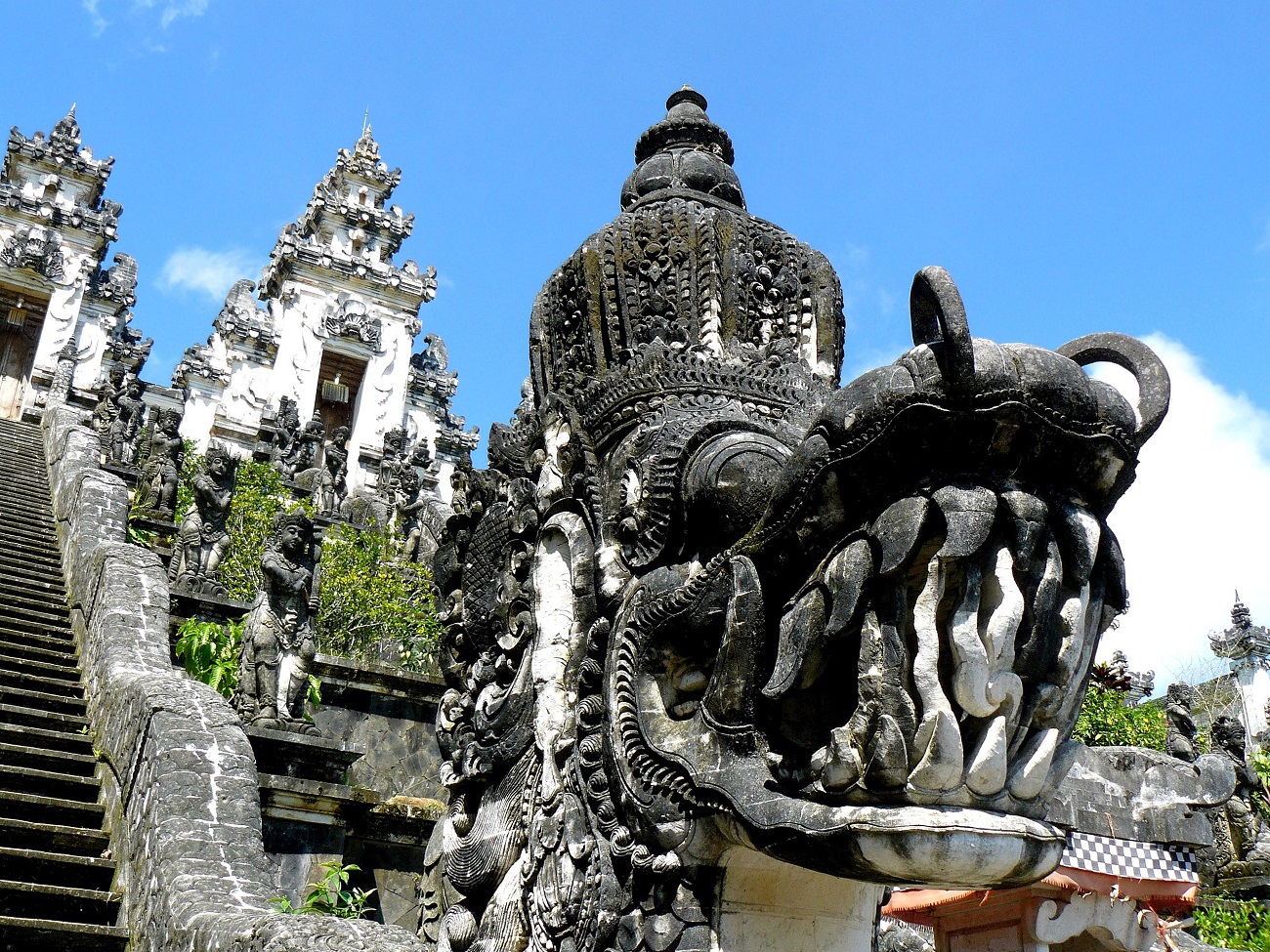 According to ancient Balinese beliefs, these spots are the pivotal points of the island and are meant to provide spiritual balance to Bali. The entire Lempuyang mountain was divided into three sections which are believed to correspond to Balinese cosmology.
According to reports, the base of the mountain is referred to as Sang Ananta Bhoga and corresponds to the mount of Brahma, the middle part of the mountain is the Sang Naga Basukih and corresponds to the mount of Vishnu, while the top of the mountain is known as Sang Naga Taksaka and is considered as the mount of Shiva; one of the principal deities of Hinduism. He is the supreme being within Shaivism, one of the major traditions within contemporary Hinduism.
The sacred most point of Mount Lempuyang is where the Pura Lempuyang Luhur is built. Pura Penataran Agung, also known as Pura Silawana Hyang Sar, is located in the middle part of the mountain; at the base of the mountain, the Pura Dalem Dasar Lempuyang is built.
Have something to add? Visit Curiosmos on Facebook. Join the discussion in our mobile Telegram group.
Share Now