Usually, when astronomers talk about "neighboring galaxy", they mean the Andromeda Galaxy, which is only 2.5 million light-years distant from us. However, a little further is another spiral galaxy, the third-largest in the local group. Its name is the Triangulum Galaxy, and Hubble recently got one of the most detailed and mesmerizing photographs of this amazing phenomenon.
The lens hit about 25 million stars, which will allow scientists not only to study the Triangulum Galaxy but also shed light on some features of the Milky Way. The final image is a composite of 54 images taken between February 2017 and February 2018, according to the Space Telescope Science Institute.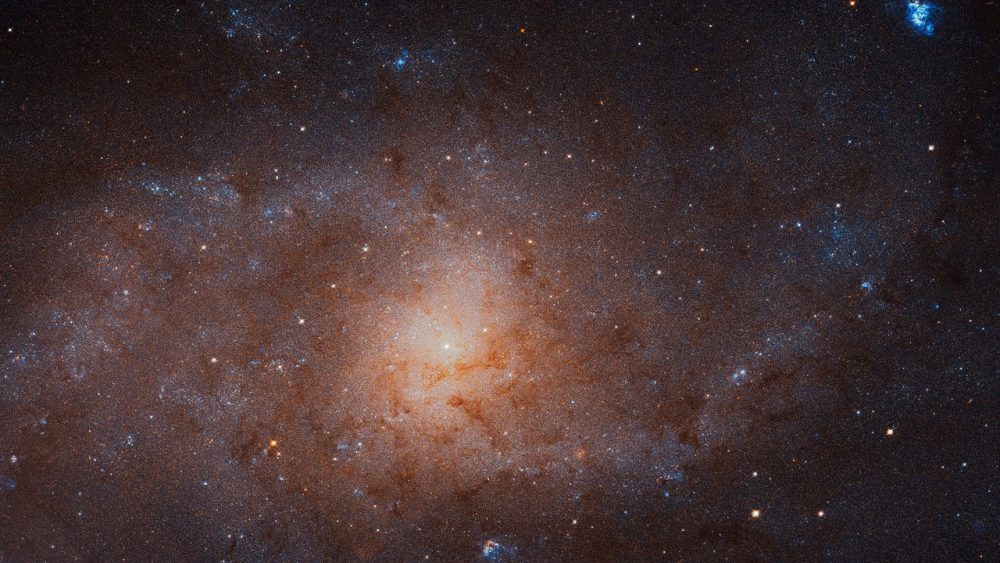 Astronomers have determined that the galaxy itself has about 40 billion stars and is approximately 60,000 light-years across. For comparison, our Milky Way has hundreds of billions of stars and its length is 100,000 light-years across.
The vast regions of the Triangulum Galaxy are full of gas and dust clouds that contain the raw material for new stars. Past research by the Hubble team has shown that a new sun-sized star forms in these clouds about once every two years – a dizzying frequency on a cosmic time scale.
According to recent releases by experts, the Triangulum Galaxy is currently undergoing a very active star formation stage – about 10 times more intense than that of its neighbor, the Andromeda Galaxy.
Studying images of the Triangulum Galaxy, as well as images of the Milky Way, Andromeda, and the irregular galaxies in the Magellanic Cloud will help scientists learn more about how stars form and develop.
The Uncertain Fate of the Triangulum Galaxy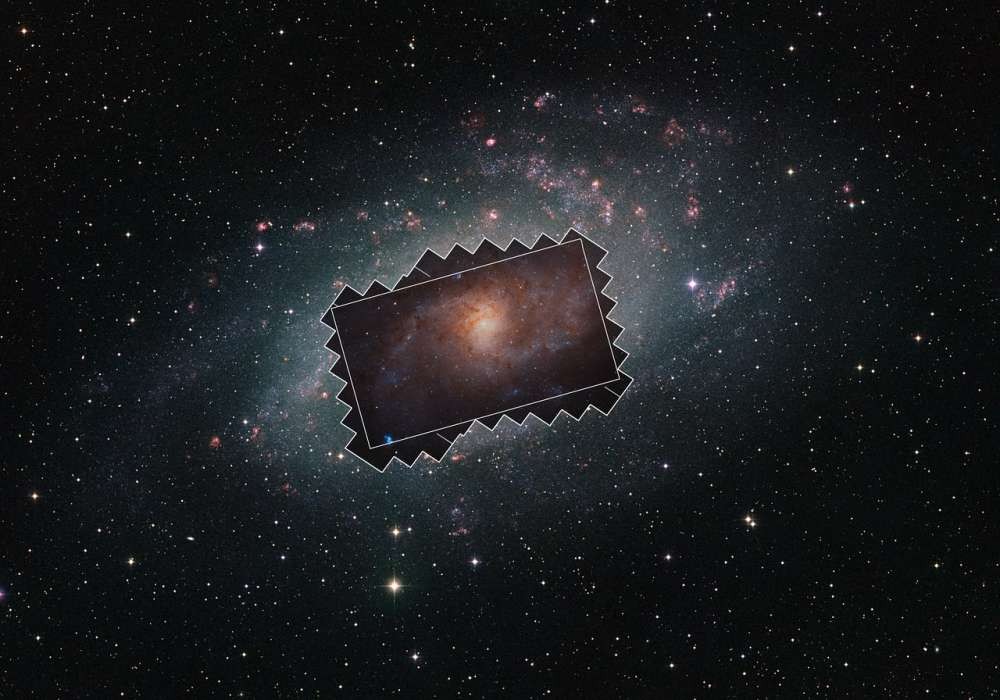 Until recently, many misconceptions and questions about the Triangulum Galaxy gave scientists an unclear idea of how the galaxies in the Local Group will progress.
However, in 2019, it was revealed that astronomers have specified the trajectories along which two galaxies close to the Milky Way move – the Andromeda Galaxy (M31) and the Triangulum Galaxy (M33). It turned out that M33 does not orbit M31, as predicted by some earlier models. It was quite the opposite – M33 is approaching M31 for the first time.
There is one more thing, however. While our two neighbors are closing in on each other, M33 is on its way to a sliding collision with the Milky Way.
The Andromeda Galaxy and the Triangulum Galaxy, together with the Milky Way, belong to the Local Group, that is, a gravitationally bound group of galaxies. It is known that M31 and the Milky Way in a few billion years will be at a distance of 400 thousand light-years from each other, after which they will merge to form a large elliptical galaxy. However, the fate of the Triangulum Galaxy remained unclear.
At the moment, the Andromeda Galaxy and the Triangulum Galaxy are close enough to each other for them to interact. In the past, it was believed that either M33 is closely related to M31, revolving around it in orbit with a period of six billion years, or it is only approaching it for the first time. The new data obtained by the Gaia space telescope confirmed that the Triangulum galaxy is not moving around M31 and will soon disperse with it.
Soon, of course, means something totally distant in our normal understanding of "soon". This refers to hundreds of millions of several billions of years from now.
Here is something I find curious. Learning new details about the fate of the universe or our own galaxy, or the Solar System, is always extremely interesting and makes me want to know even more. What I find curious is why do I have such an interest in a future that I would never see? It is even likely that no human will ever see this future as our humankind may not exist in this distant, distant future.
Anyway, I believe that images like this are really life-changing. They do not turn your life to a different path but they make it better. Those of us that live in large cities with less opportunity to see the true wonders of the sky thanks to pollution really appreciate such images.
Whether it is an image of a single celestial object or something massive like this 655-million-pixel image of the Triangulum Galaxy, it makes us wonder and gives us a glimpse of the things we cannot see with the naked eye.
---
If you want to see this image in extreme detail through the zoom tool of the European Space Agency, follow THIS link and dive into the mind-blowing beauty of the Triangulum Galaxy.
---
The image is best appreciated with this zooming tool accessible from here.
---
Join the discussion and participate in awesome giveaways in our mobile Telegram group. Join Curiosmos on Telegram Today. t.me/Curiosmos
---
Sources:
• HUBBLE TAKES GIGANTIC IMAGE OF THE TRIANGULUM GALAXY [HEIC1901]. (2019, January 7).
• [email protected] (2019, January 7). Hubble takes gigantic image of the Triangulum Galaxy.
• McClure, B., & Byrd, D. (2018). Triangulum: 2nd-closest large spiral galaxy.
• The sharpest view ever of the Triangulum Galaxy. (n.d.).
• Staff, S. (2019, February 07). Gaia clocks new speeds for Milky Way-Andromeda collision.
• Triangulum Galaxy shows stunning face in detailed Hubble portrait. (2019, January 8).