Should we be worried or should we welcome the creation of such advanced but perhaps "dangerous" technologies?
In 2020, the public space received many declassified US Navy patents that raised many questions. What these patents included were controversial concepts of technologies that sounded like something taken from a science fiction movie. The Drive published a new collection of declassified "UFO Patents" describing experiments conducted by the US Naval Air Warfare Center Aircraft Division (NAWCAD).
Sci-fi tech
From these unconventional patents, we learned about technologies that, without proof, would sound unrealistic. Some examples include a "high-frequency gravitational wave generator" and a "compressed plasma fusion device." These are just a couple of the many examples mentioned in the documents. There is a good reason they were called the "UFO Patents" – they describe technologies that we would normally attribute to an advanced extraterrestrial civilization.
All these extreme technologies and alleged inventions came from the brilliant mind of Dr. Salvatore Cezar Pais, a famous engineer from the US Navy. We know to what extent the Navy has invested in them and what tests have been made so far. Of course, these "UFO Patents" are probably just a small fraction of the truth. Whenever such documents get declassified, they are entirely under the government's control.
What Do The "UFO Patents" Show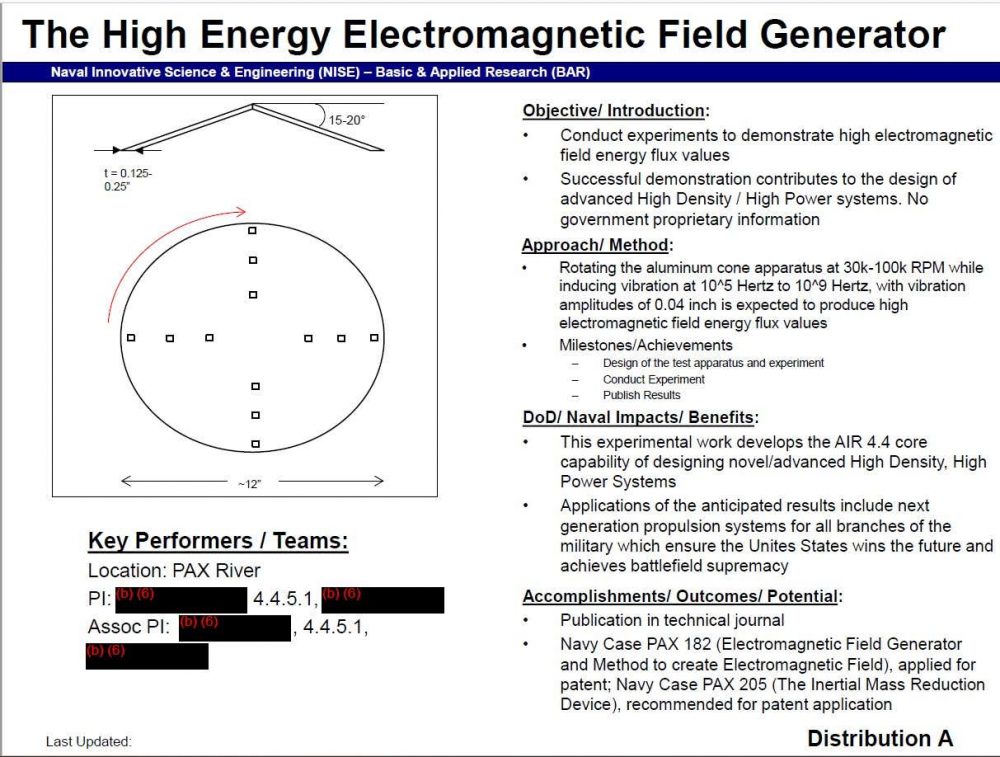 These documents provide a deep insight into how seriously the U.S. Navy may have taken Dr. Pais's work and how exactly some of its elements were tested and the extent to which these technologies have been developed.
Hundreds of pages of very precise technical drawings, photographs, and data related to the program called Naval Innovative Science and Engineering – Basic & Applied Research, which is related to the project of the High Energy Electromagnetic Field Generator, abbreviated HEEMFG. One of the weapons of highest interest to us mentioned in the documents is for modifying spacetime, or SMW (Spacetime Modification Weapon) for short. No known weapon on Earth could compare to this if it is ever made, not even a hydrogen bomb.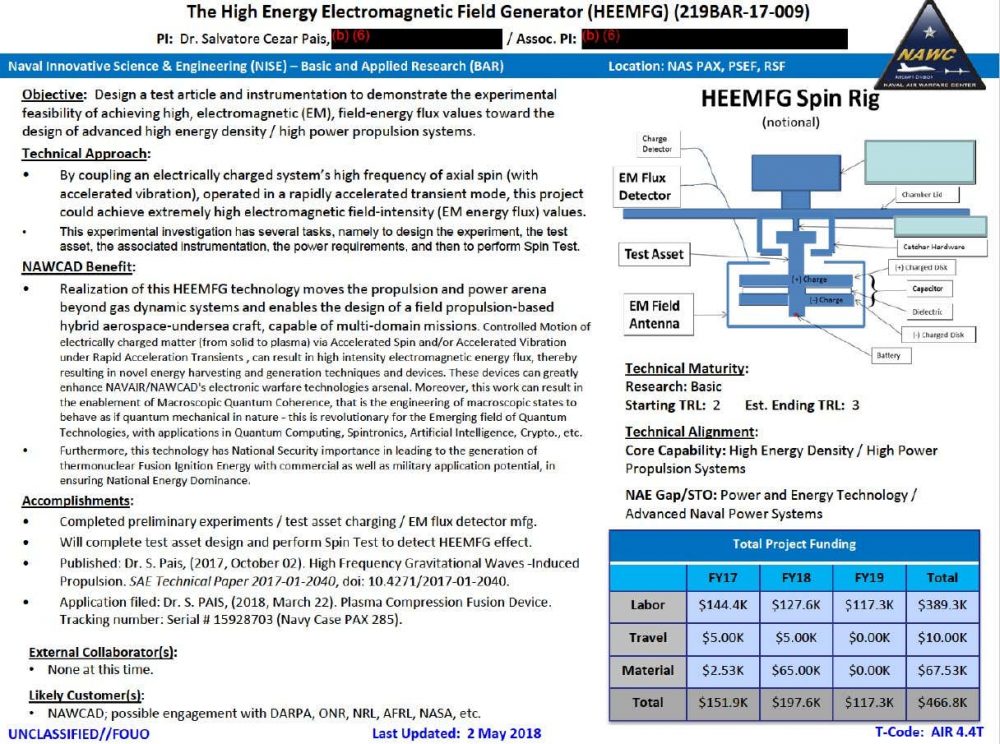 Some of these documents also indicate that the US Navy believes this technology is of great importance for US national security because it potentially leads to the creation of thermonuclear fusion energy with potential commercial and military applications and that this technology could ensure energy dominance for the US. As for the price of these tests, according to documents transmitted by The Drive, only $466,810 was spent between 2017 and 2019, but even that is significantly more than previously thought.
Purpose: Trying the accomplish the "Pais Effect"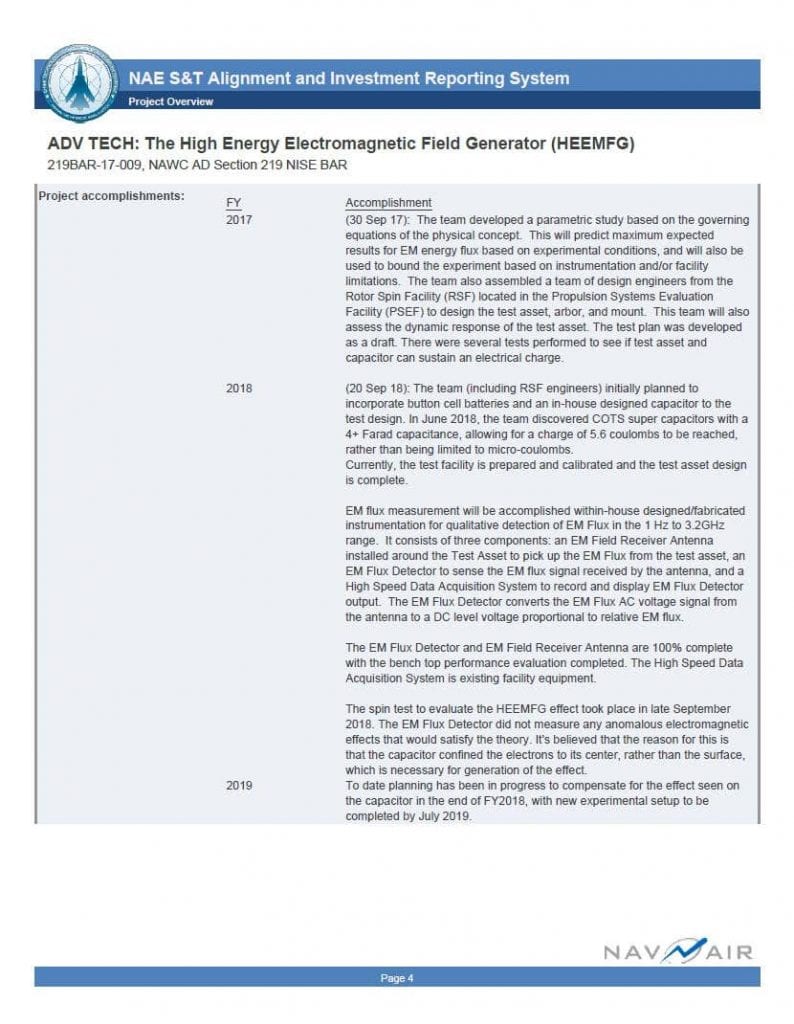 The purpose of all this was actually the intention to assess the likelihood of the so-called "Pais effect" through the construction of an experimental HEEMFG, or a theoretical concept in physics that is considered to be achieved through the controlled motion of electrically charged matter (from solid to plasma) subjected to accelerated vibrations and/or accelerated rotations via transient fast accelerations.
Dr. Pais pointed out that through this effect, incredibly powerful electromagnetic energy fields can be created that can design the fabric of our reality at its most basic level. A total of 1,600 working hours were spent on testing HEEMFG in 2018 and 2019 if we include thedesign, procurement, production, testing, and writing of final reports.
The "UFO Patents" also shows that a team of at least ten technicians and engineers was in charge of testing the experimental HEEMFG and that the last tests were conducted in September 2019. In one unusual part of the description of the test results, the scientists reported that the technicians felt something strange on their skin when they approached the experimental generator, although the following states that there are a handful of prosaic explanations for what the technicians reported.
Among the conclusions of the experiments in the mentioned documents is that the Pais effect was tested in September 2018 and that the tests showed that no anomalous electromagnetic effects were measured that would satisfy this theory. It was also clarified that the scientists assumed that the reason was that the capacitor kept the electrons in its center rather than on the surface, which is necessary to produce this effect.
The testing went well, and the generator worked well, but the research team simply could not even notice the Pais effect.
Curiosmos' Take
It is widely known that the theories of Dr. Pais are not always well-accepted, and many scientists believe that his theories are impossible. And yet, NAWCAD has apparently invested considerable sums of money in testing the Pais Effect, which is good enough proof that there are people at the high levels who are more than interested in potential breakthrough inventions of this kind.
One thing is certain – there must be plenty of other patents out there that have not been revealed to the public. It is hard to believe that this was the end of the program, as it sounds quite the opposite. I have no doubts that research continues or has been transferred to a different agency that is more adequate in providing efficient results.
We can only wait and see what else will be revealed in the future, but even the idea of such weapons and technologies is worrying. After all, what is all this leading to, and where will it end?
---
Join the discussion and participate in awesome giveaways in our mobile Telegram group. Join Curiosmos on Telegram Today. t.me/Curiosmos
---
Sources:
• Tangermann, V. (2021, January 27). The Navy reportedly experimented with a "spacetime modification weapon."
• Tingley, B. (2020, December 17). Emails Show Navy's 'UFO' Patents Went Through Significant Internal Review, Resulted In A Demo.
• Tingley, B. (2020, January 22). The Secretive Inventor Of The Navy's Bizarre 'UFO Patents' Finally Talks.
• Tingley, B. (2021, January 27). Navy "UFO Patent" Documents Talk Of "Spacetime Modification Weapon," Detail Experimental Testing.
Share Now