I firmly believe Earth is not the only planet in the universe where life exists.
"Look again at that dot. That's here. That's home. That's us. On it everyone you love, everyone you know, everyone you ever heard of, every human being who ever was, lived out their lives. The aggregate of our joy and suffering, thousands of confident religions, ideologies, and economic doctrines, every hunter and forager, every hero and coward, every creator and destroyer of civilization, every king and peasant, every young couple in love, every mother and father, hopeful child, inventor, and explorer, every teacher of morals, every corrupt politician, every "superstar," every "supreme leader," every saint and sinner in the history of our species lived there-on a mote of dust suspended in a sunbeam."
---
The above is Carl Sagan's quote as he described the pale blue dot, a photograph of planet Earth taken on February 14, 1990, by the Voyager 1 space probe from a record distance of about 6 billion kilometers (3.7 billion miles, 40.5 AU), as part of that day's Family Portrait series of images of the Solar System.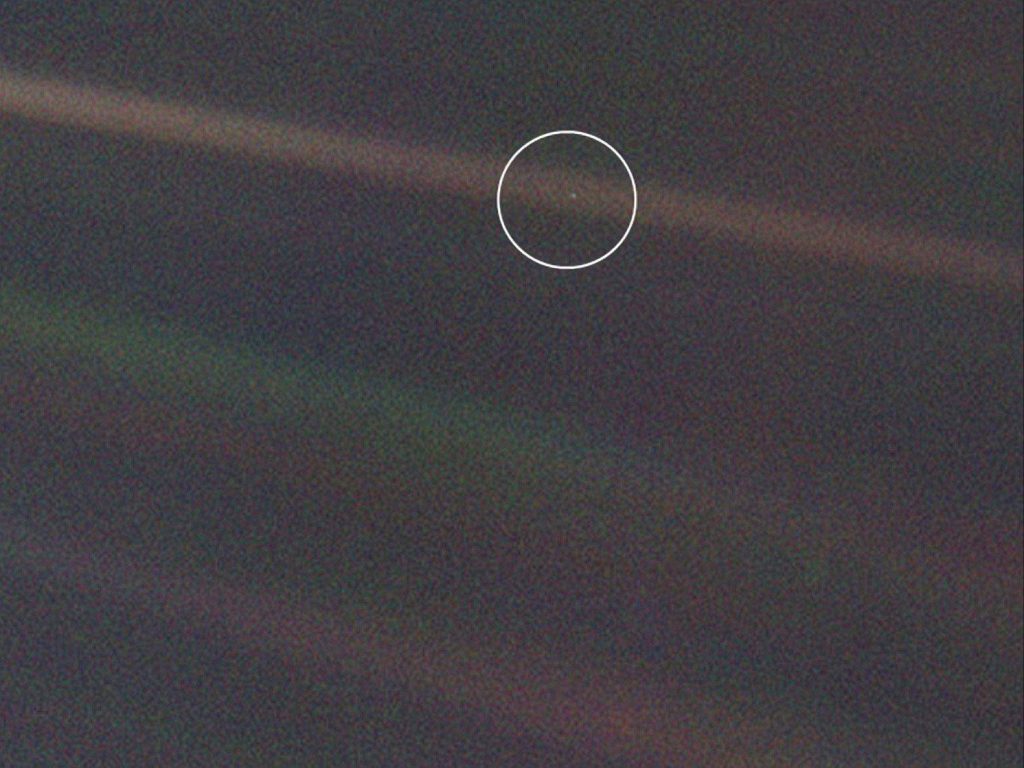 The photograph perhaps describes how little we are in the universe. We, every person on Earth, every nation and region, all living beings, are part of one large but insignificantly small 'cosmic island' traveling the cosmos. And while many believe we are the center of everything, the most important part of the cosmos, the truth is that we can't really grasp how little and small we are. The universe is a massive place. It's so freakishly huge that despite our best calculations and theories, we can't fully understand its size or why it even exists.
Measuring the universe
Astronomers assume that the proper distance—the distance as would be measured at a specific time, including the present—between our planet and what is considered the edge of the observable universe is 46 billion light-years (14 billion parsecs), which means that the diameter of the observable universe about 93 billion light-years (28 billion parsecs). All of us reside in the Milky Way Galaxy, our very own sanctuary in space. Compared to the universe, the Milky Way is tiny. Our Galaxy, the Milky Way, contains at least 400 Billion stars, the number of planets that exist orbiting said stars is a number too large to fathom. Furthermore, the Milky Way galaxy is about 1,000,000,000,000,000,000 kilometers (about 621,371,000,000,000,000 miles) across, and its radius is around 52,850 light-years.
Laniakea
The Milky Way is part of a supermassive intergalactic structure, some 500 million light-years across— which contains around 100,000,000,000,000,000 Suns extended through its 100,000 150,000 galaxies, called Laniakea. And all of the above is in constant motion. Our planet revolves around its own axis as it makes its way around the sun. Our star, Sol, moves through the vastness of space at a speed of 792,000 kilometers per hour as it orbits the galactic center. According to astronomers, our universe moves at a mind-bending 2.1 million kilometers per hour.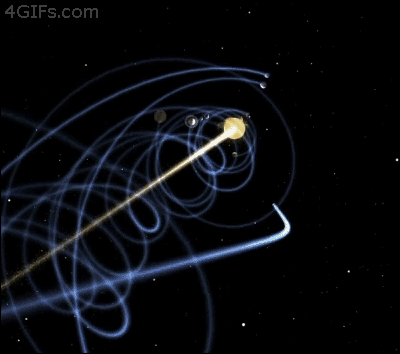 This means that not only do we reside in an expanding, massive unexplored universe, but as you are reading through this, everything around us, including planets, moons, stars, and even galaxies, hurtling through space at incredible speeds. And to understand all of the above, here are a few images that will help you understand where we are in space and just how significant we are. Here's our solar system, our local cosmic address.

Here's the scaled distance between Earth and the moon.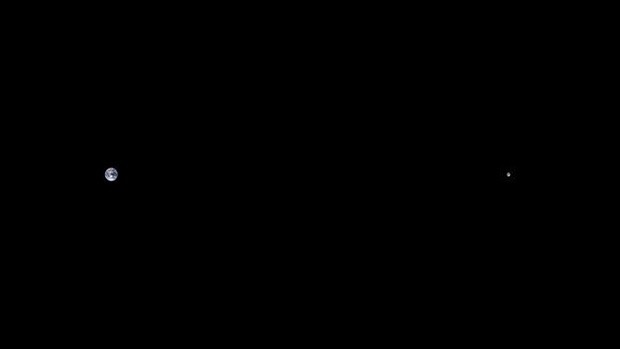 Below we see that all planets in our solar system fit perfectly between the Earth and the moon.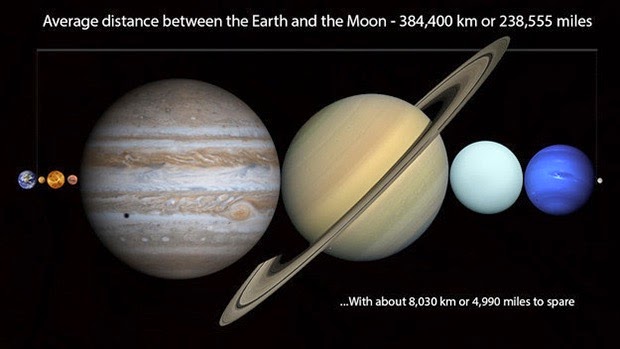 This is our sun compared to all the planets in our solar system. Earth is barely visible.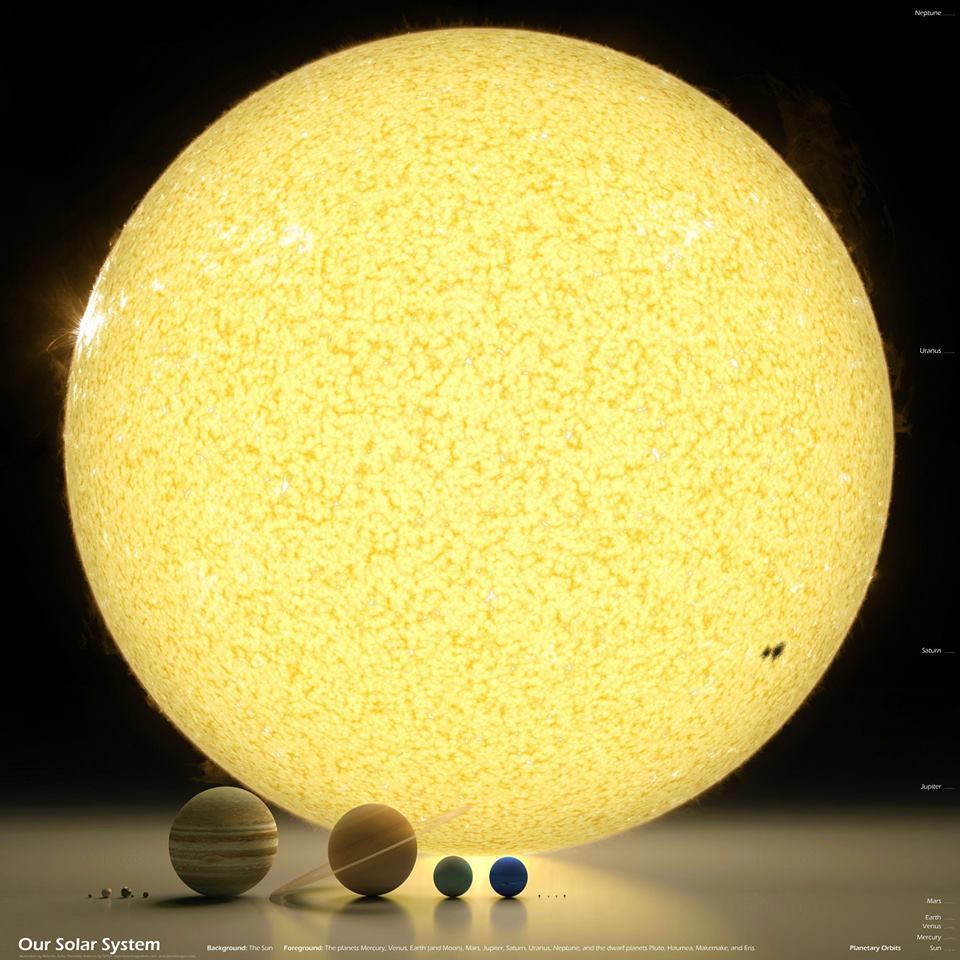 Earth compared to our sun.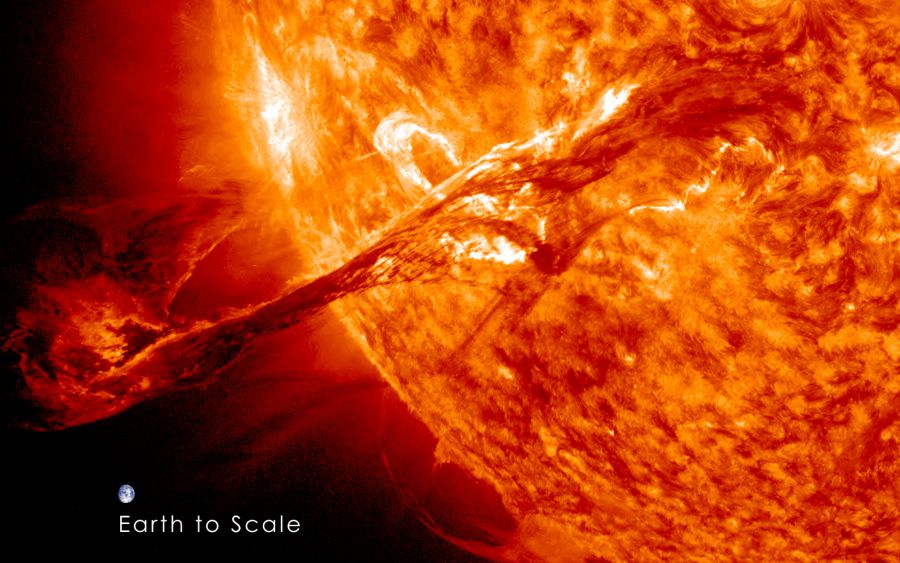 But even the sun is small compared to other stars in the universe.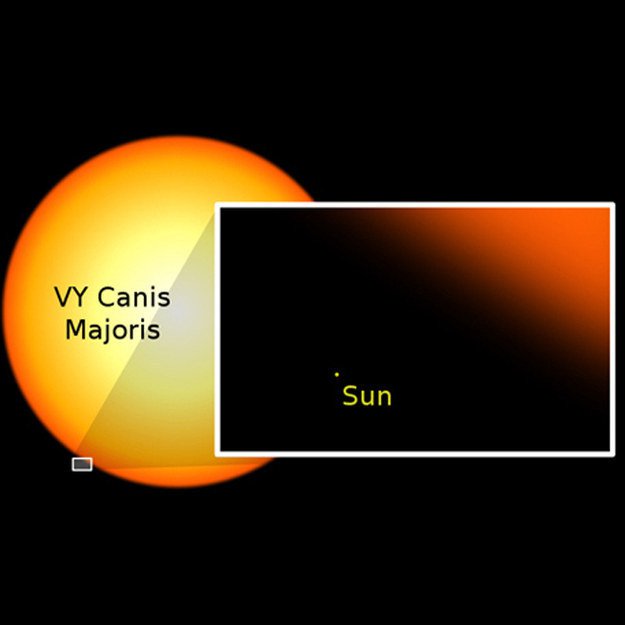 Here's another mind-bending view.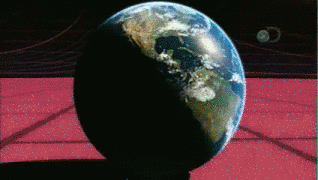 Here's Jupiter compared to North America.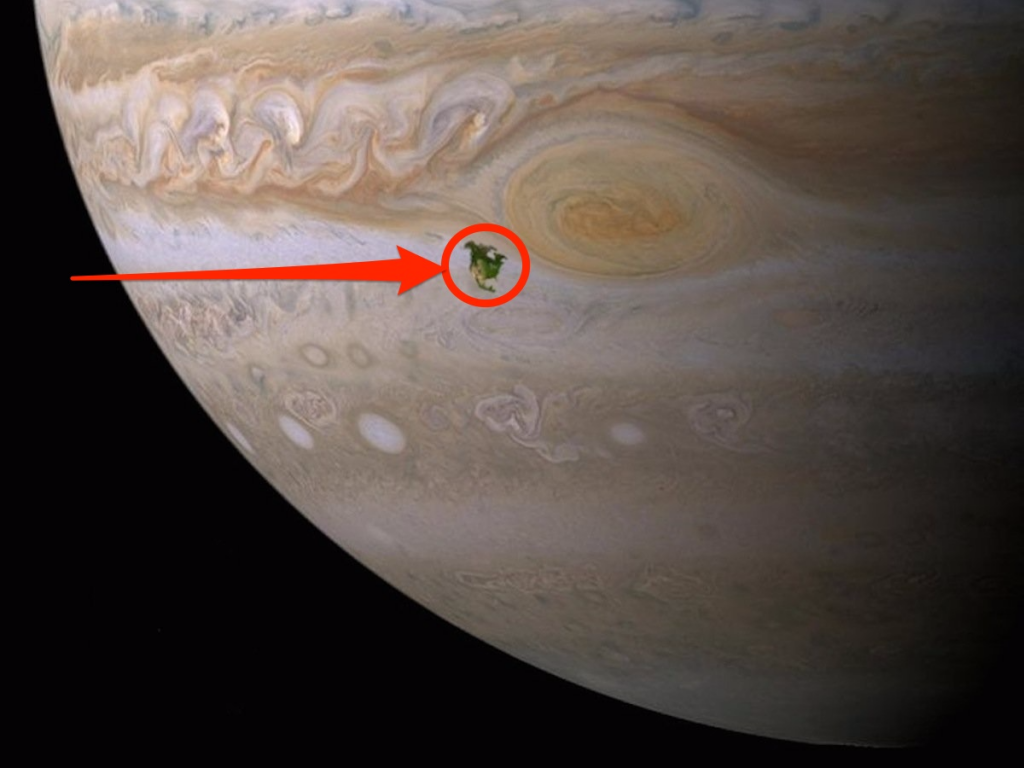 And here's a view of Earth, next to Jupiter, the solar system's biggest planet.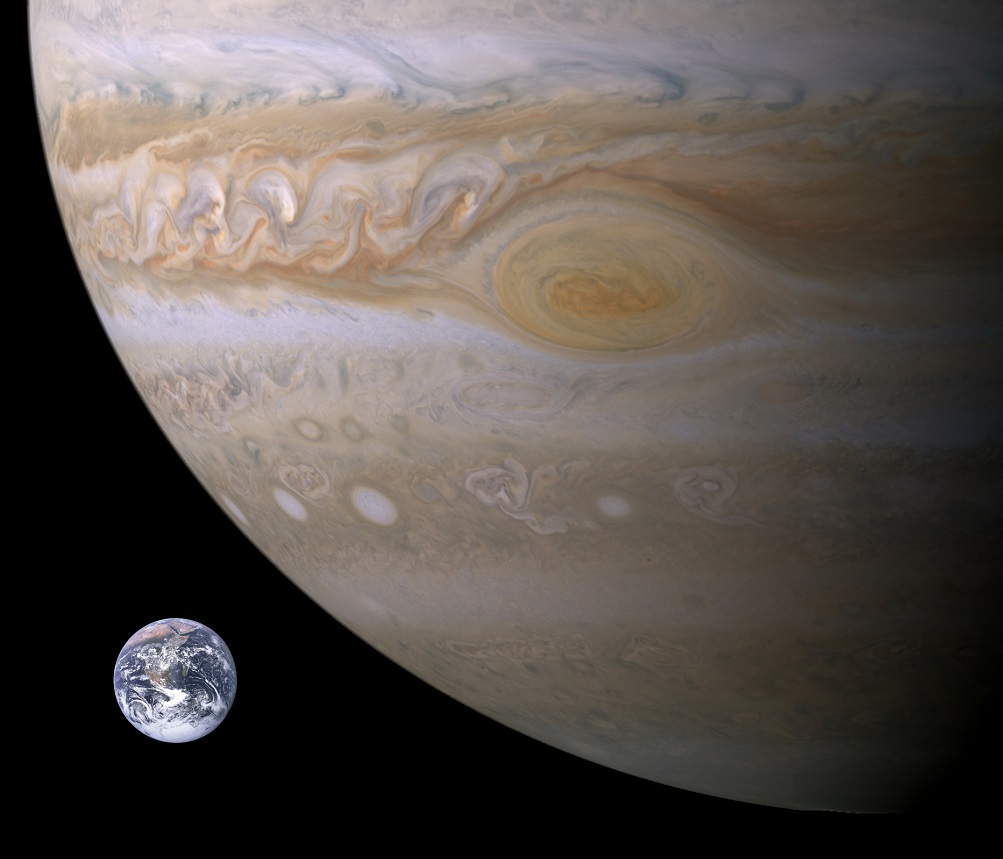 One day we will set foot on Mars, and this is what future astronauts will see, as they look towards Earth.
This is Earth as seen from Mars: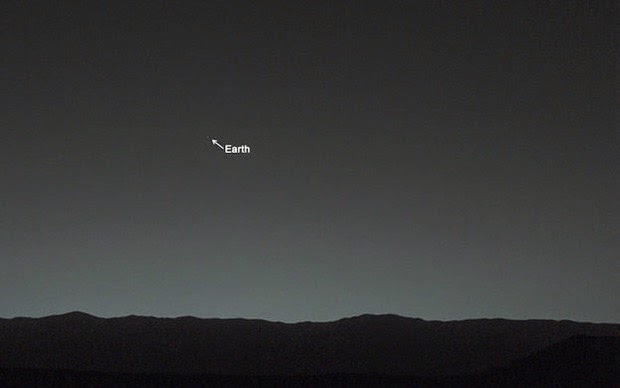 The Pale Blue Dot. Earth as seen from the Voyager 1 space probe from a record distance of about 6 billion kilometers (3.7 billion miles, 40.5 AU).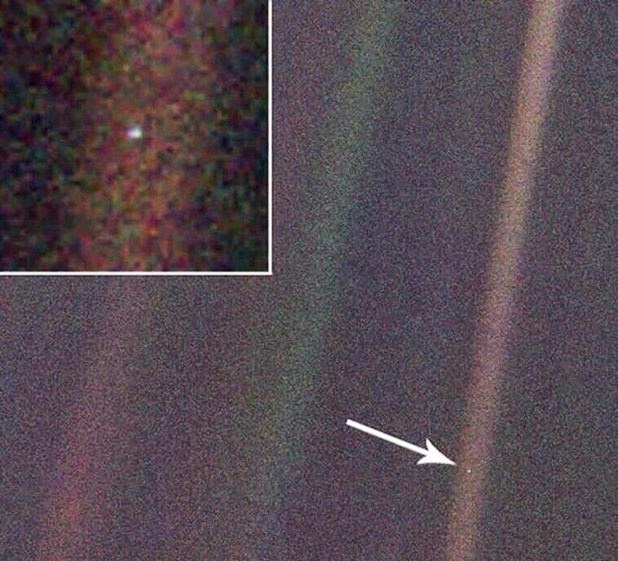 Here's where we are in the Milky Way Galaxy.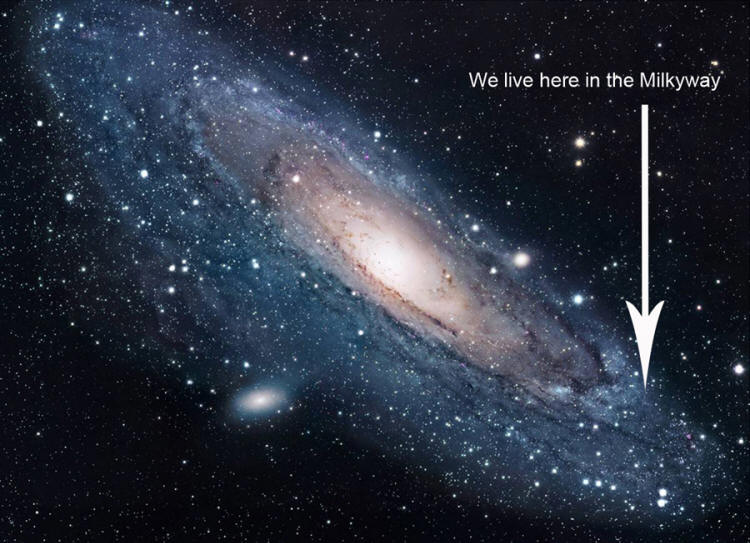 Yes, the Milky Way is a huge galaxy, but it is extremely small compared to some of the largest galaxies discovered in the universe.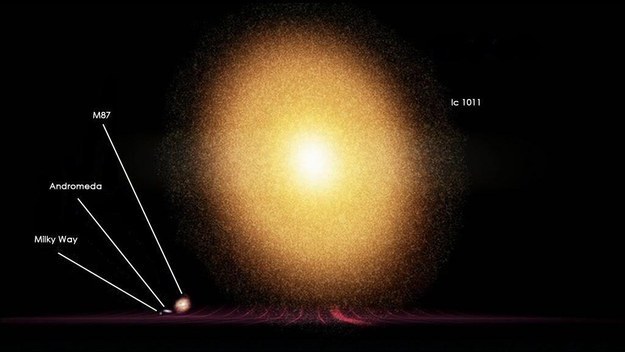 Another galactic view.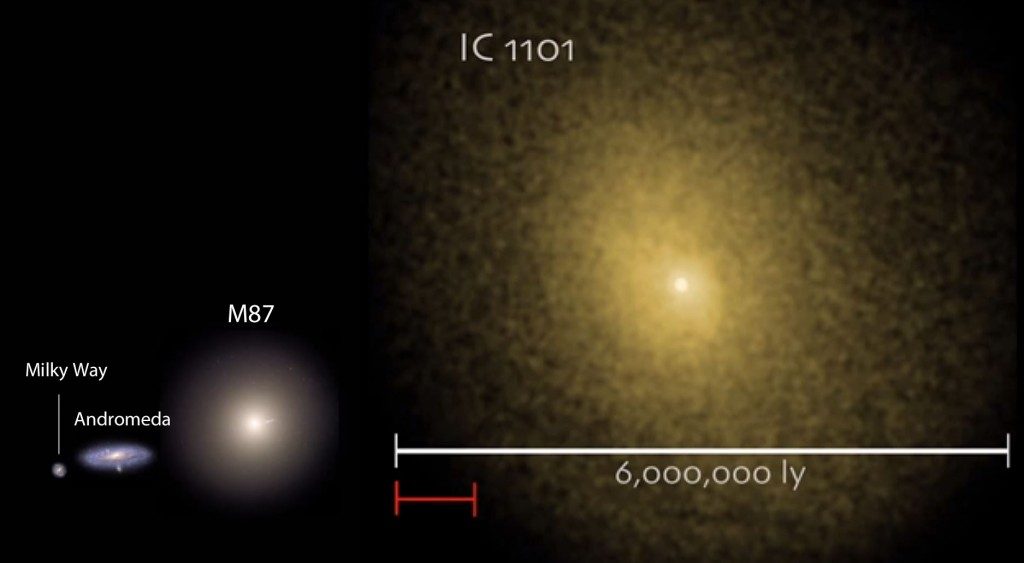 Here's a  9 Gigapixel image of the Milky Way. The below image is just a small part of the entire picture. All of those dots are stars, and most of them are orbited by planets.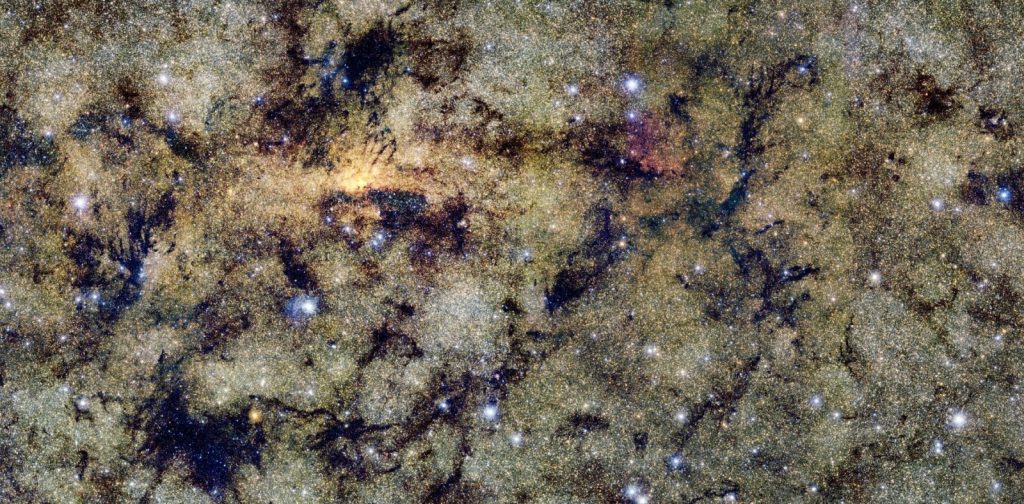 Seen below is a computer simulated image of an area of space more than 50 million light-years across, presenting a possible large-scale distribution of light sources in the universe—precise relative contributions of galaxies and quasars are unclear.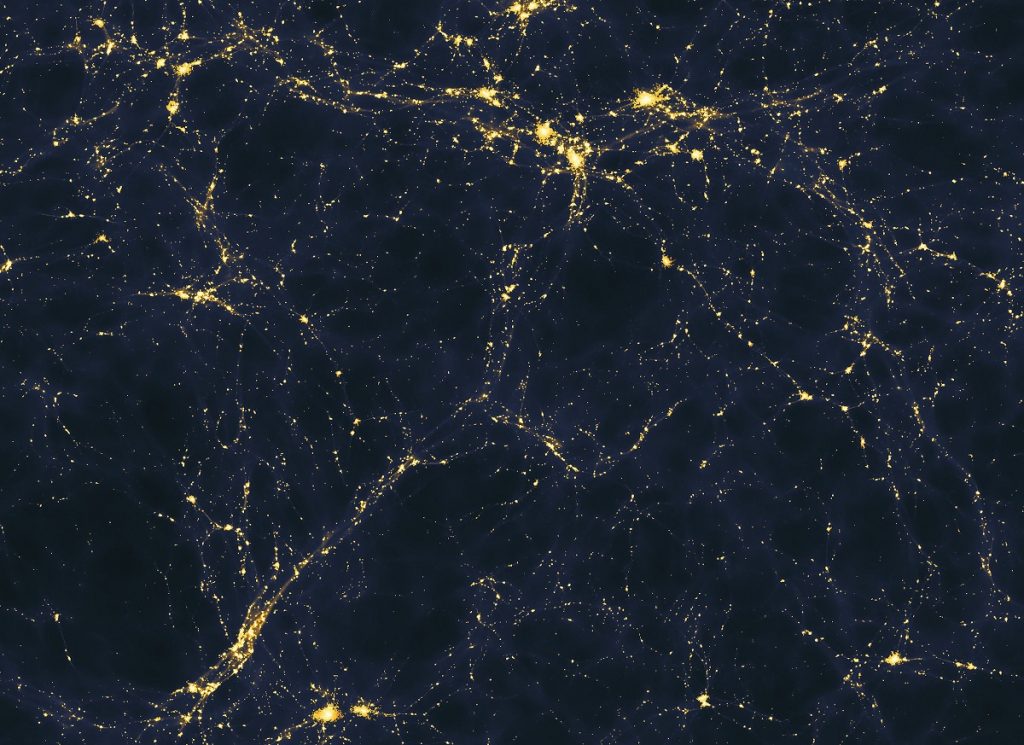 This view below shows us our solar system's neighborhood.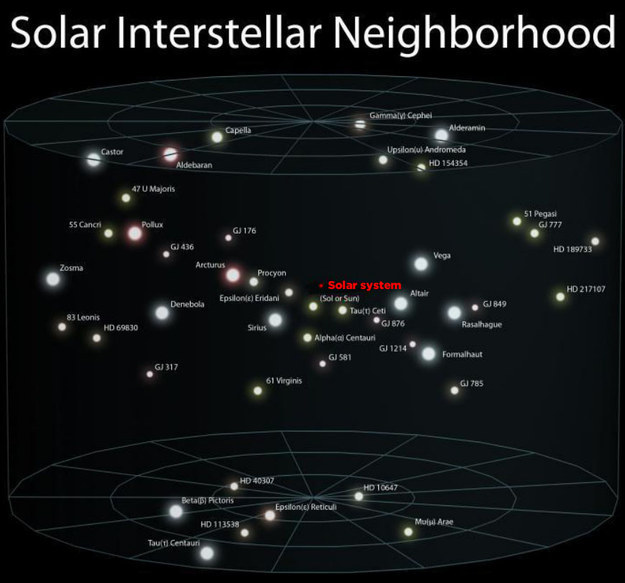 And here's our Local Galactic Group.
Here's a different view of the Local Group.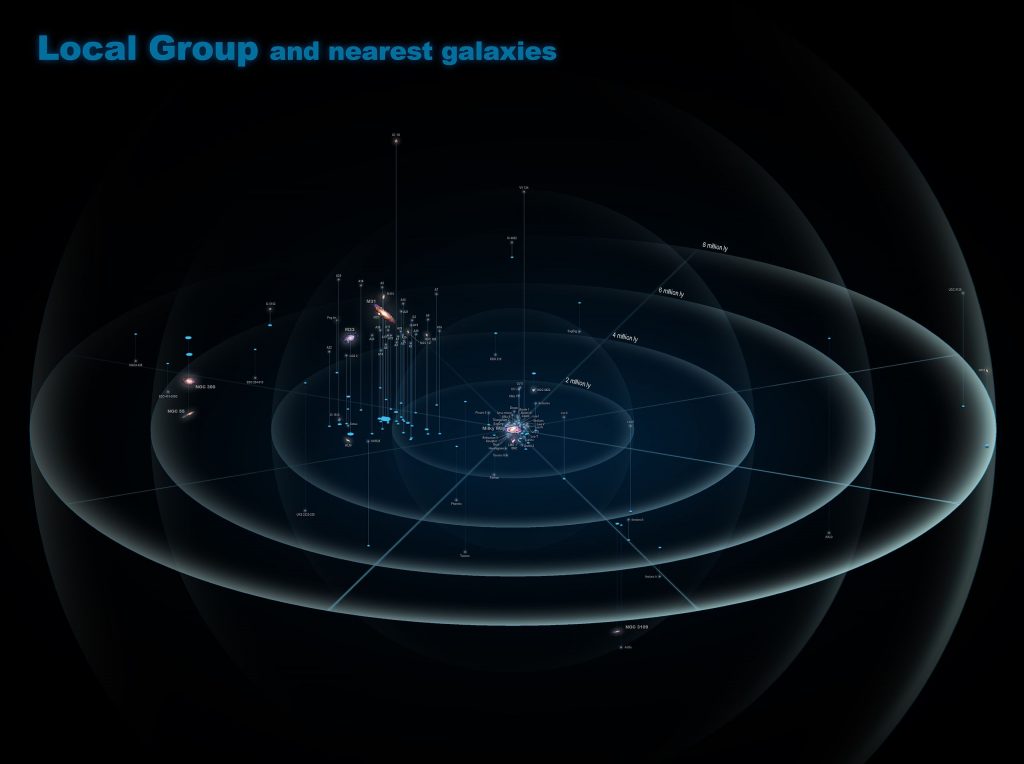 The observable universe.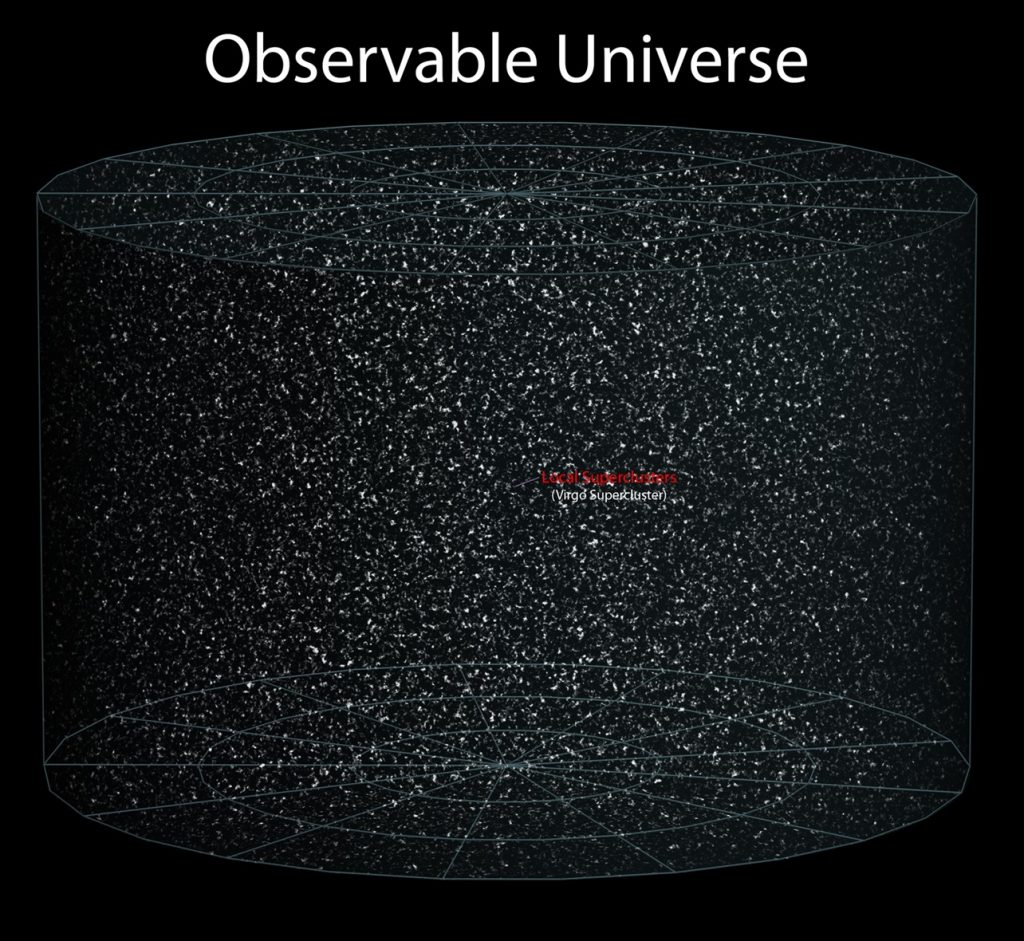 A simulated view of the entire observable universe, approximately 93 billion light-years (or 28.5 billion parsecs) in diameter. The scale is such that the fine grains represent collections of large numbers of superclusters. The Virgo Supercluster—home of Milky Way—is marked at the center, but is too small to be seen in the image.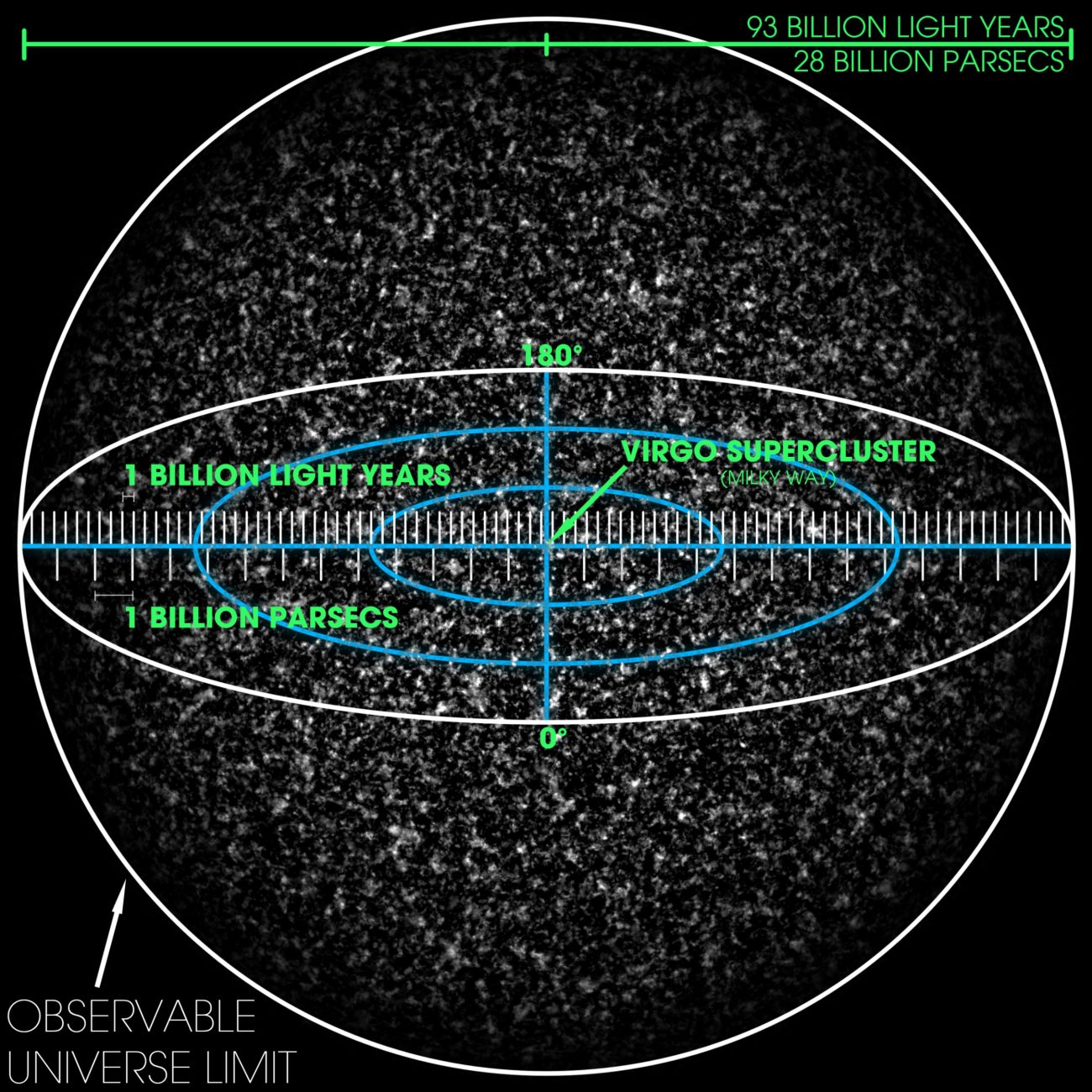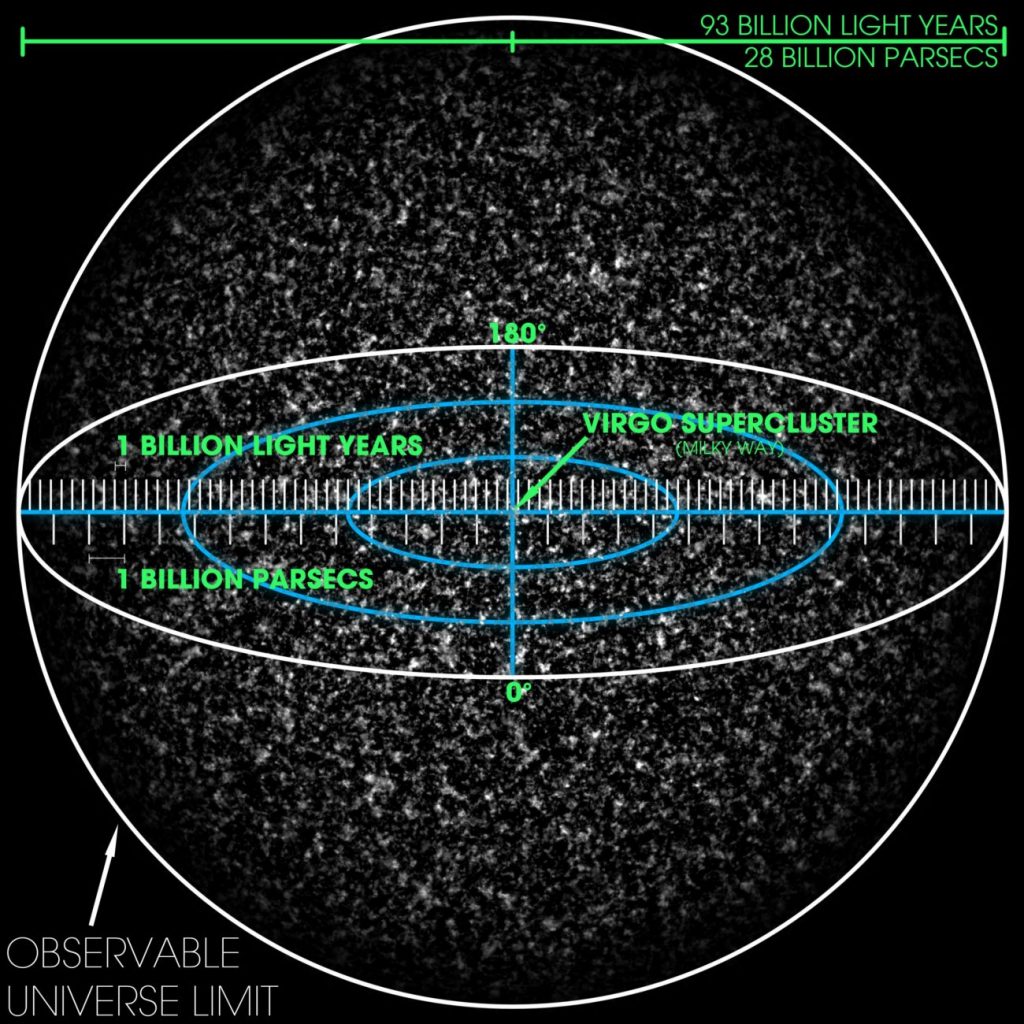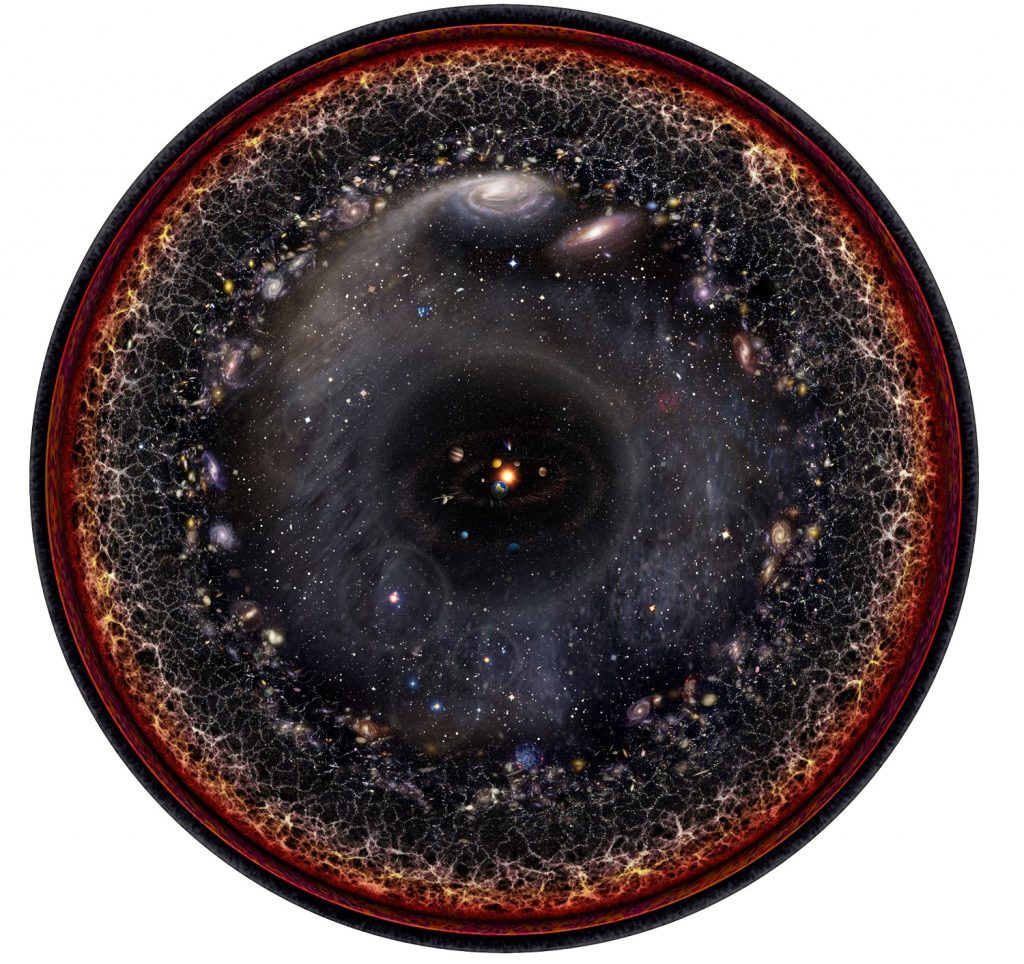 This is the estimated size of the universe: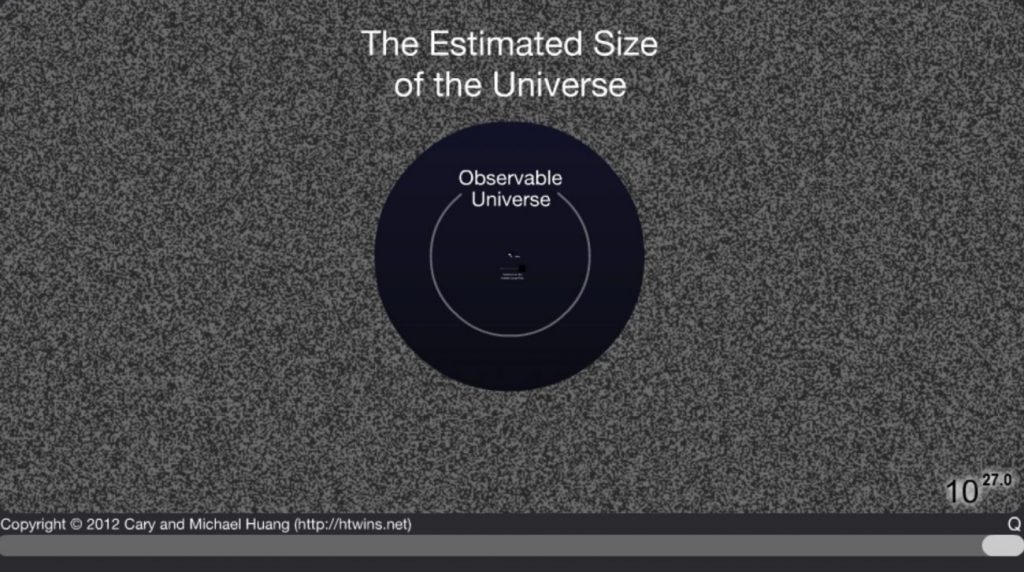 ---
Join the discussion and participate in awesome giveaways in our mobile Telegram group. Join Curiosmos on Telegram Today. t.me/Curiosmos
Share Now