There are over 200 moons in our Solar System alone. Which are the strangest of them all?
Did you know that there are more than 200 discovered Moons in the Solar System? Most of them orbit around the largest planets of Saturn and Jupiter, while Venus and Mercury are the only planets without a single one.
Each moon is unique in its own way, and some really attract extra attention with their strange characteristics and appearance. Discussing 200+ moons will be an impossible task for me, so we picked out ten of the strangest moons in the Solar System that you may not have heard of but are worth noting.
1. Miranda – Ugliest Moon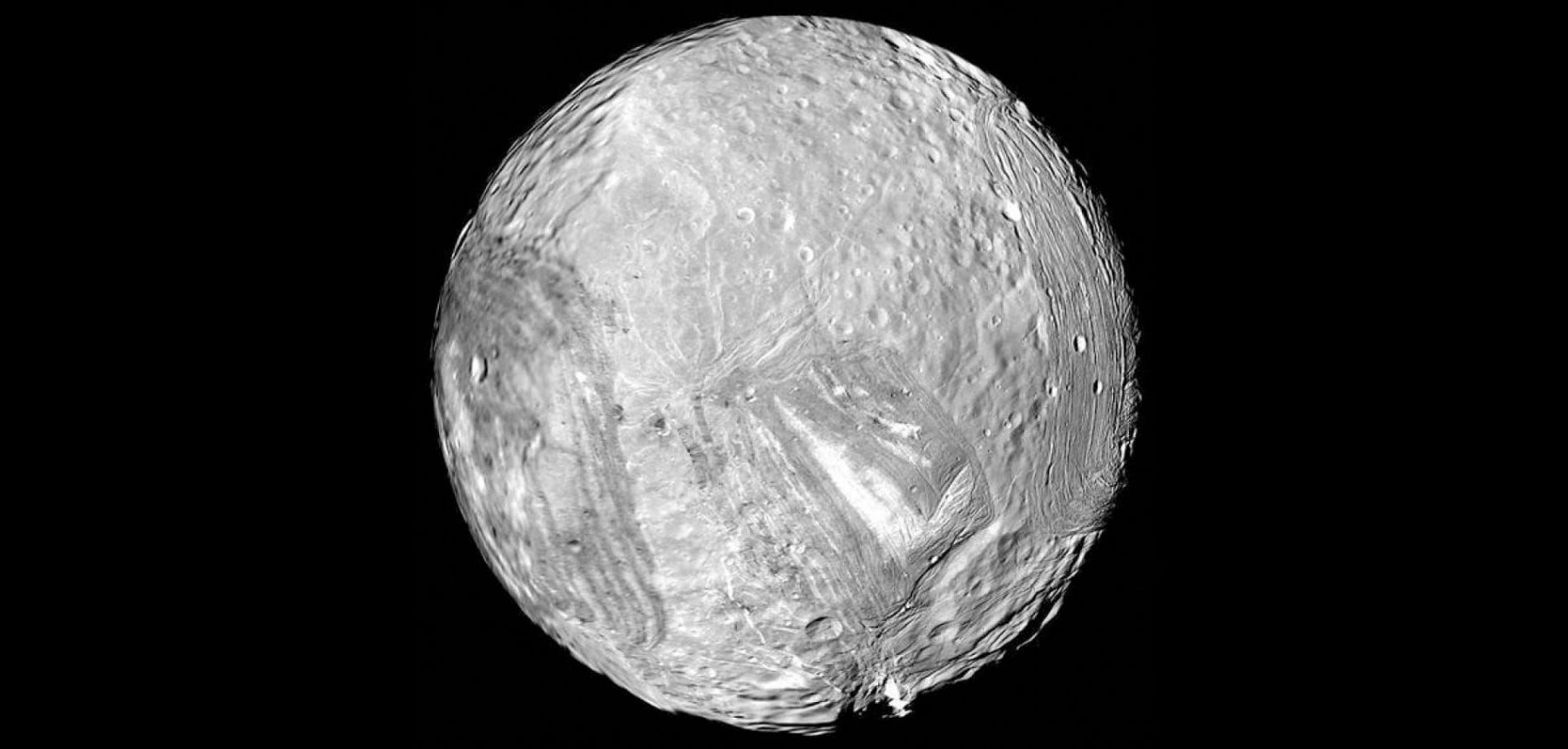 Let's start our list with Miranda, one of Uranus's moons. Discovered in 1948, it quickly became known as one of the ugliest moons ever found due to its distinctive characteristics. Any object in space without an atmosphere is usually covered in craters from previous impacts with other objects, but Miranda takes it to the next level.
Its southern hemisphere is covered in grooves that go deep into the planet as if it was once cut in pieces. Of course, this is pretty much what the regular theory about any damaged moon/planet is – that it impacted with another large object in the past.
A more modern theory, however, suggests that Miranda is being torn apart by Uranus. As they orbit each other, both get damaged from the pull, which could be strong enough to cause geological catastrophes on the strange moon.
2. Hyperion – Strange Shape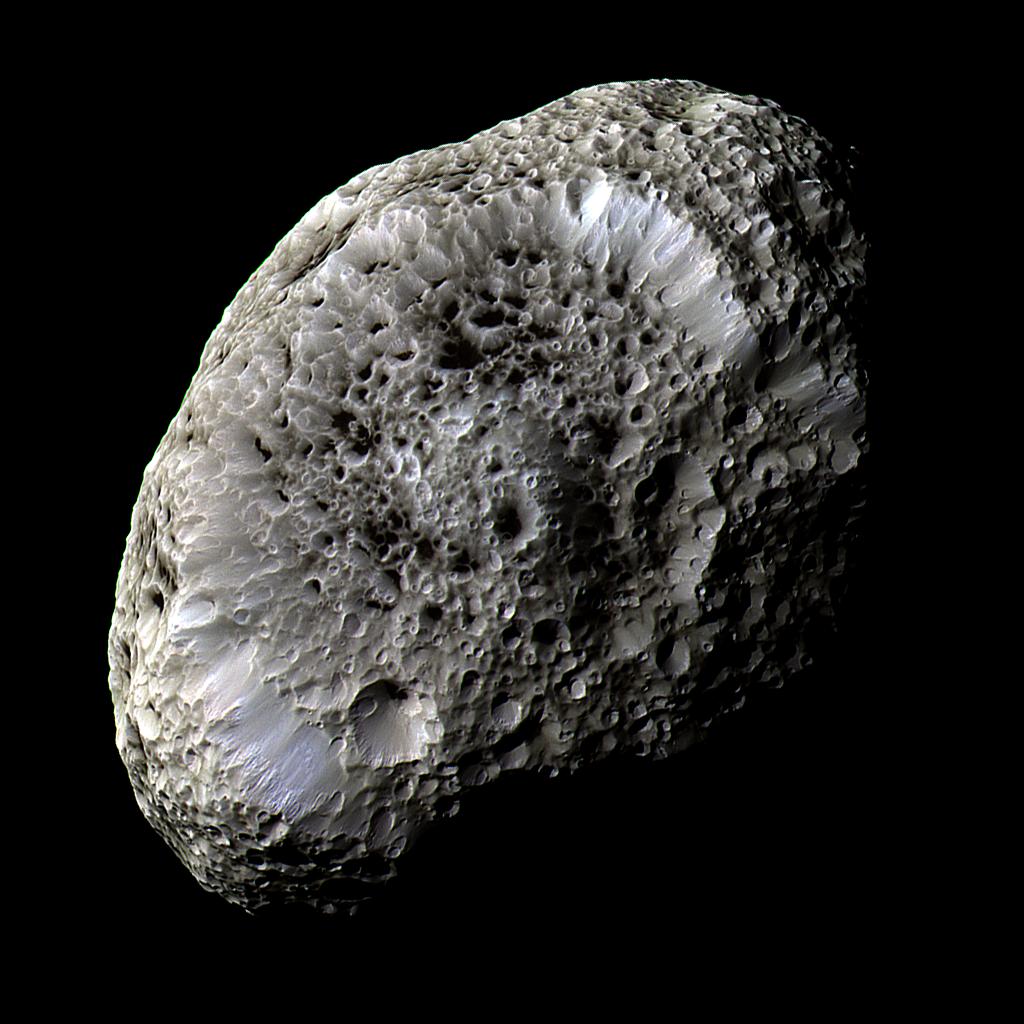 Hyperion is perhaps the strangest moon of Saturn. It is widely known for its atypical sponge-like shape. According to scientists, it has remained this deformed because it is not large enough for gravity to make it more spherical.
As for the strange holes which cover the entire moon and give it that sponge-like appearance, it is believed that Hyperion consists of ice for the most part, which is also not too dense. Therefore, every time it gets hit by another object, the impact creates a deep hole in its surface.
3. Titan – Planet-like characteristics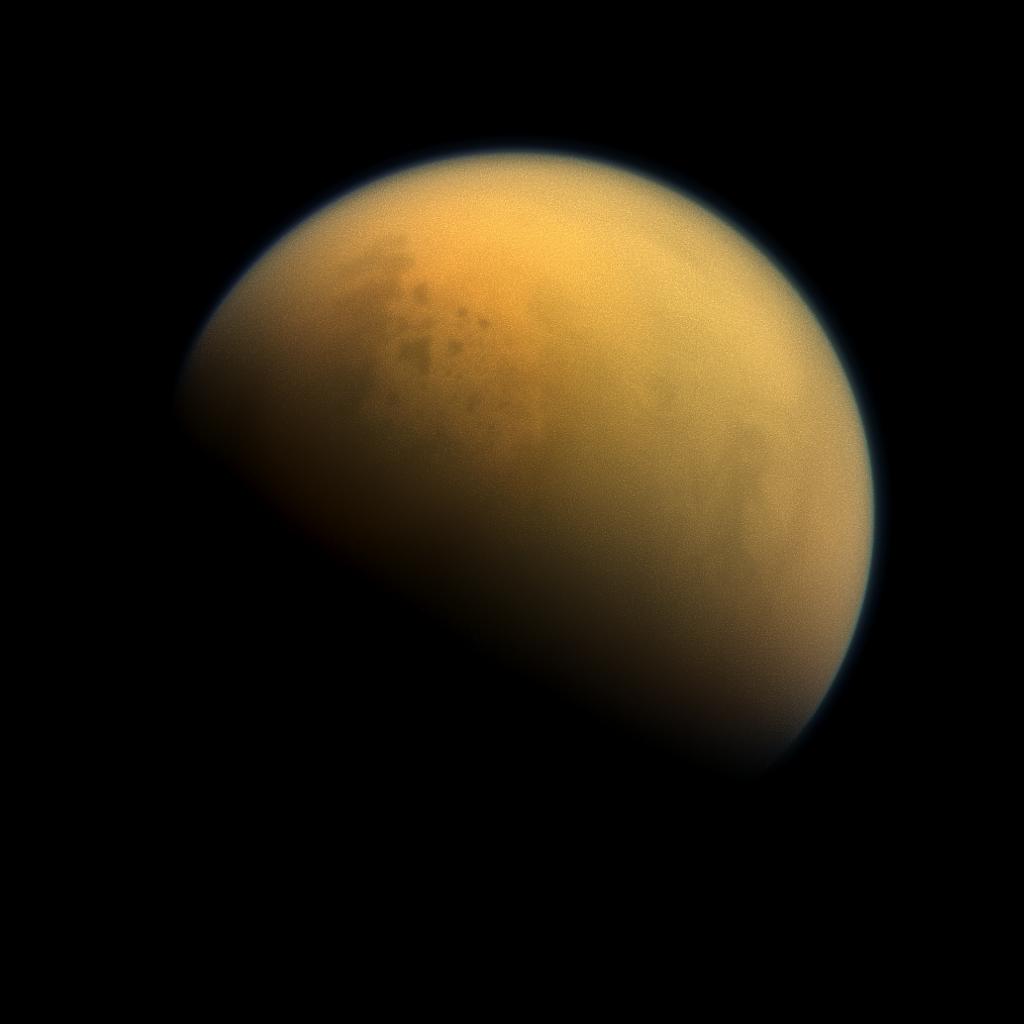 Yet another moon of Saturn but very different in characteristics, Titan has an atmosphere and water cycle, which makes it far more similar to a planet than a moon. Having a water cycle, however, does not mean liquid water. The temperatures on Titan are too low, which means that it is covered in ice.
4. Ganymede – Magnetic Field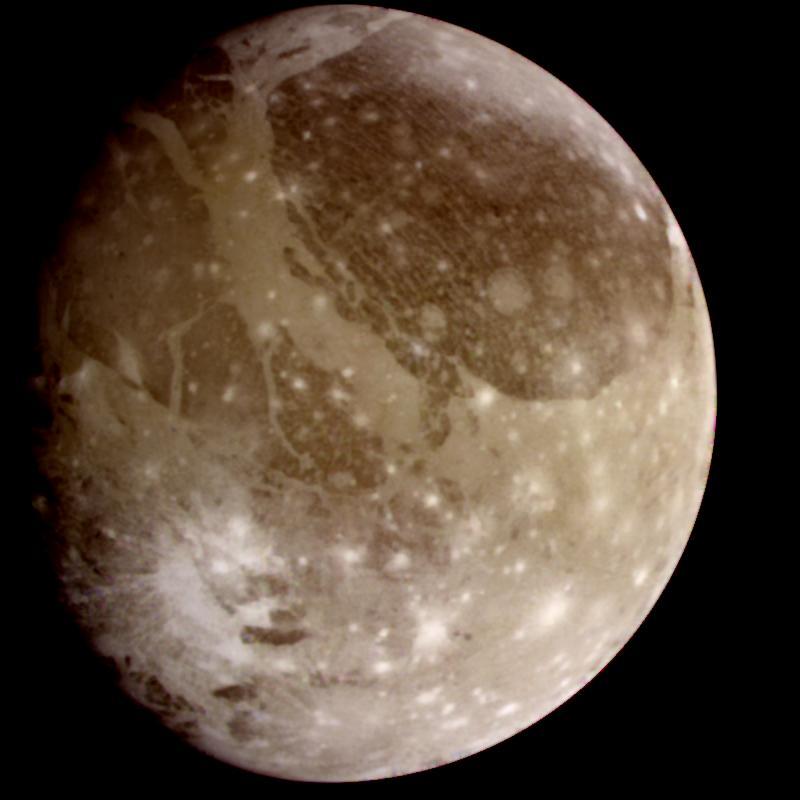 Ganymede is the largest moon in the solar system. A natural satellite to Jupiter is 3/4 of the size of Mars, making it larger than Mercury.
What makes Ganymede one of the strangest moons is the presence of a magnetic field which no other moon in the solar system has.
5. Io – The Volcano Moon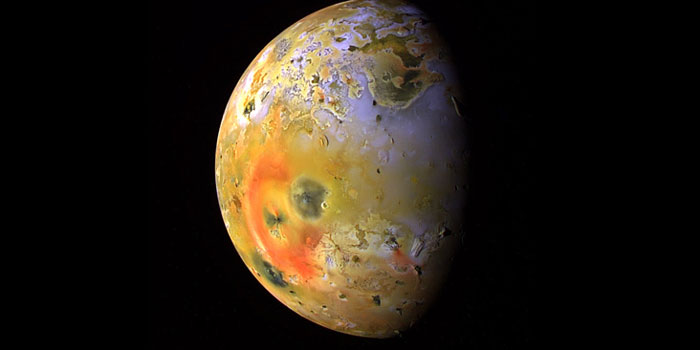 Another one of the strange moons that orbit Jupiter, Io, is known for its incredible volcanic activity. Due to extreme gravitational forces, hundreds of volcanoes on Io's surface repeatedly erupt, causing constant changes on its surface. By far, it is the most volcanically active moon in the solar system.
6. Iapetus – Half dark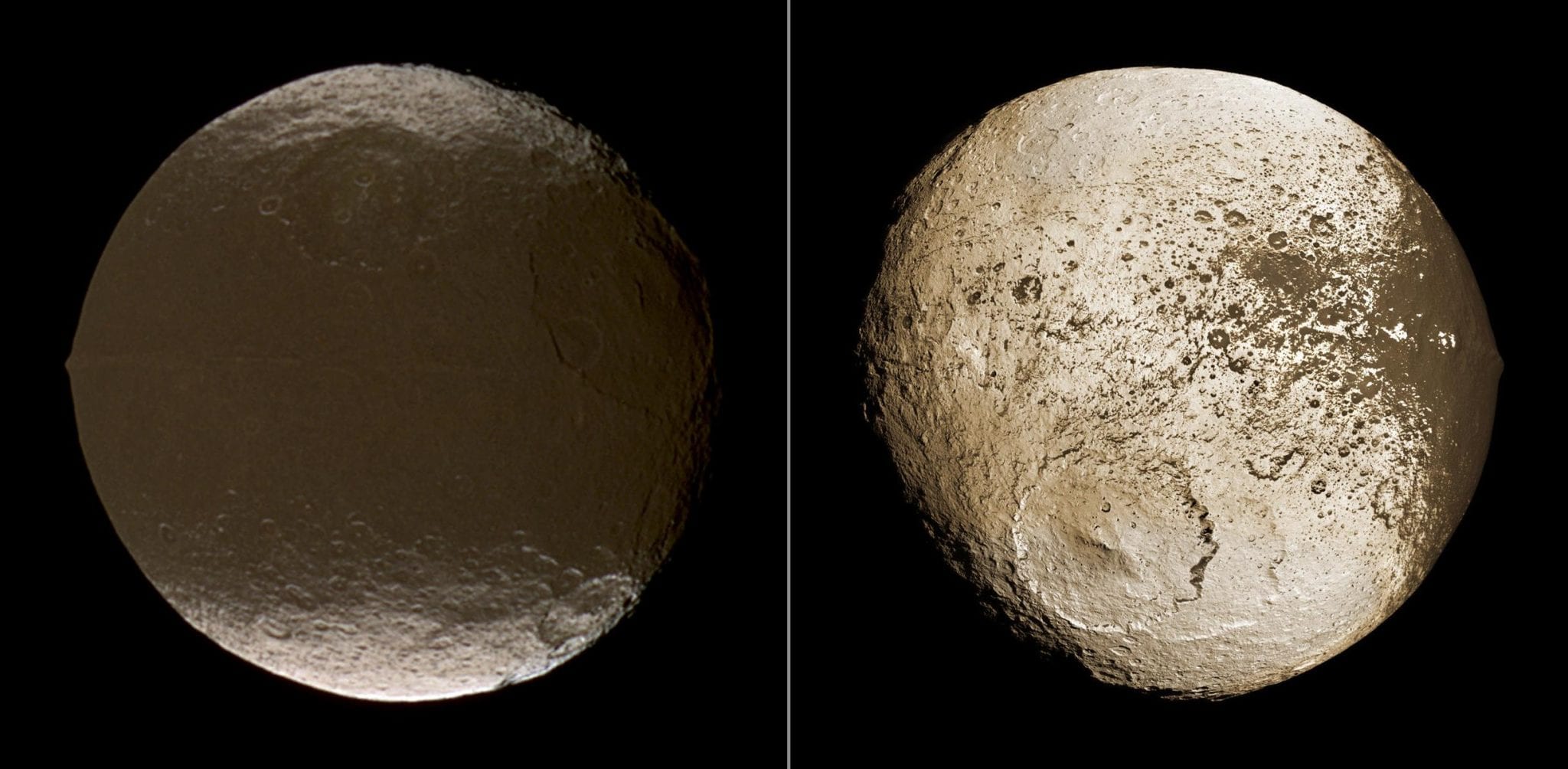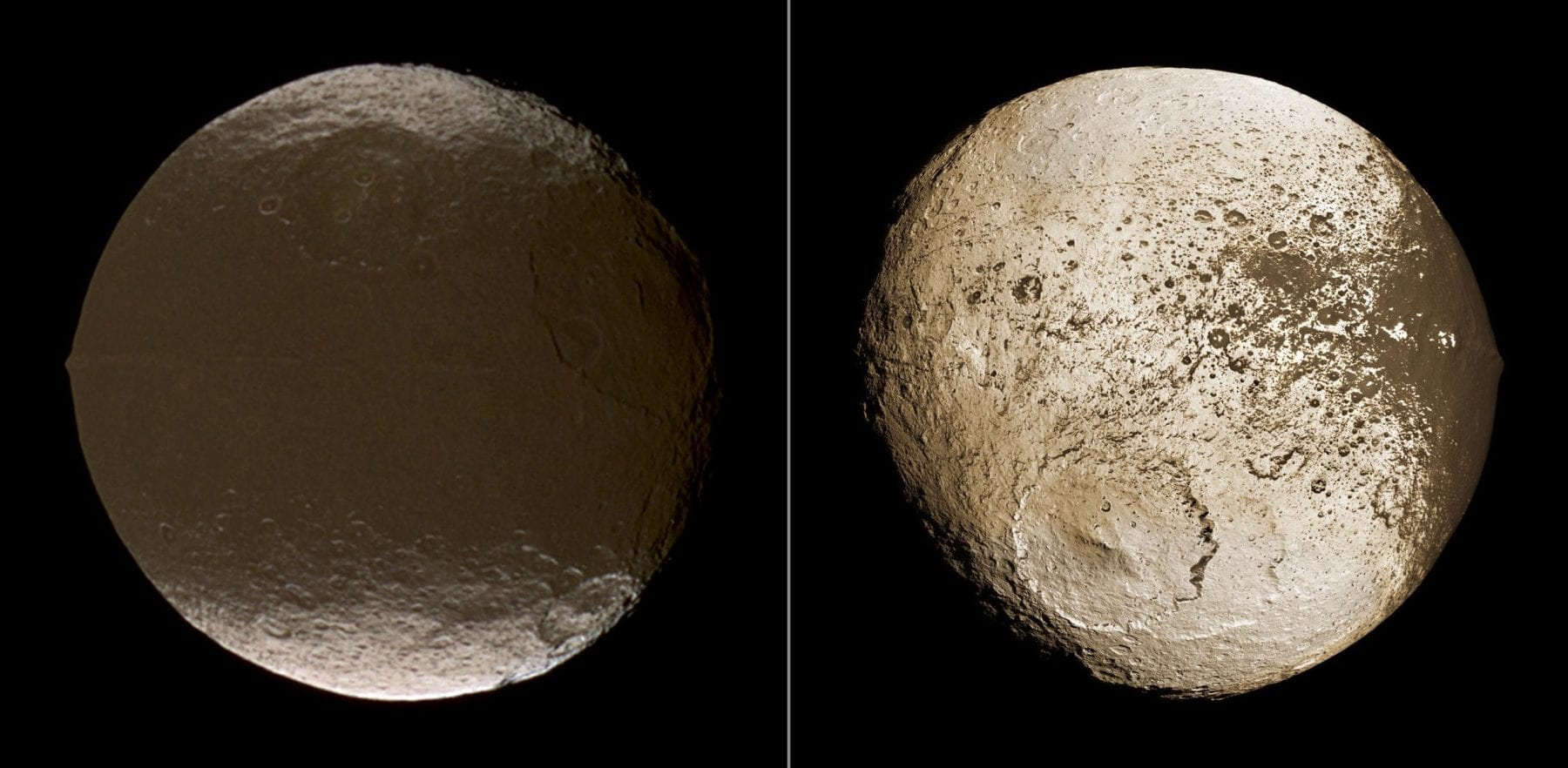 Saturn's strange moon, Iapetus, was discovered more than 300 years ago in 1671 by astronomer Giovanni Cassini. Even then, he realized that half of the moon is dark. Of course, he couldn't explain it then, and it took more than three centuries for science to unravel the mystery.
Iapetus's orbital path passes through one of Saturn's rings made from dark-red dust, which lands on the moon's surface, causing more than half of the planet's darker color.
7. Mimas – Real-life Death Star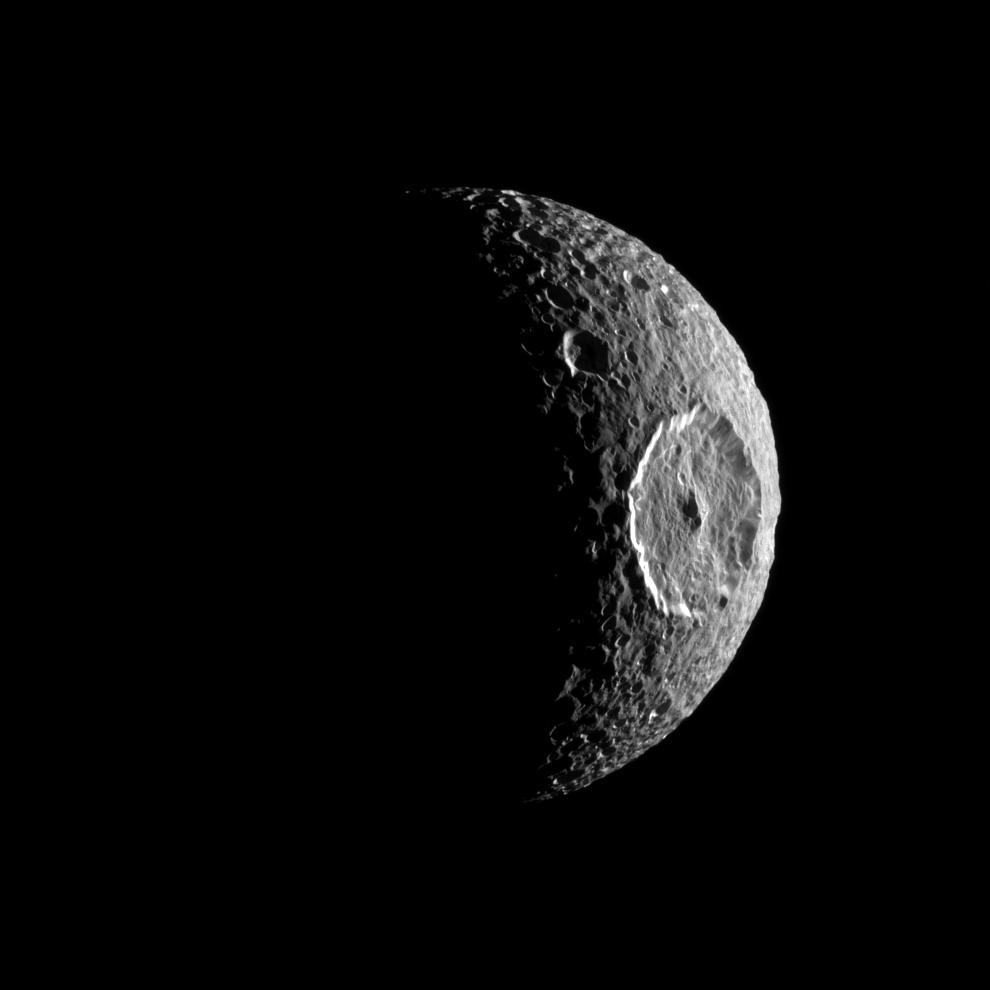 Discovered in 1789 by astronomer William Herschel, Mimas is the smallest Moon with a rounded shape caused by self-gravitation. Although the moon itself is nothing spectacular, and I cannot mention any unique features or characteristics, there is one thing that drew attention towards it in the past few decades – the Herschel crater.
Named after the astronomer who discovered Mimas, the Herschel crater is what makes the moon quite similar in appearance to the Death Star from the legendary Star Wars movies.
8. Phobos – Doomed on a collision course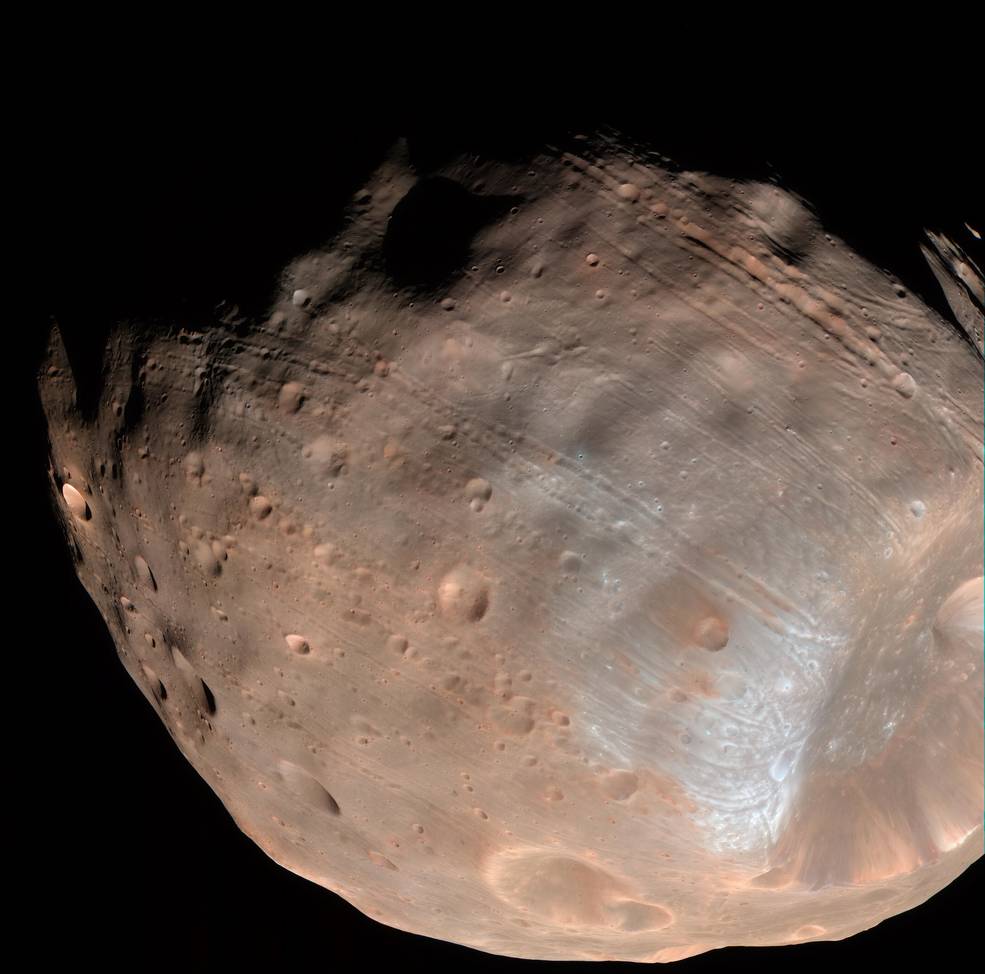 Phobos, the larger of the two moons of Mars, is a moon that is fated to be destroyed. Even though it is the larger of the two, Phobos is extremely small with its 27-kilometer diameter. What's curious about this strange moon is the fact that it slowly comes closer and closer to Mars. This means that one day, many millions of years from now, it will either crash into the surface of Mars or it will slowly break into a small ring.
9. Enceladus – The Geyser Moon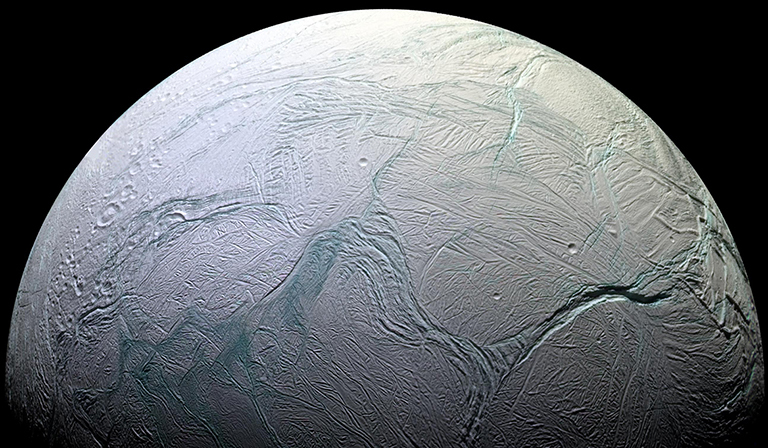 Perhaps the most beautiful moon in the solar system, Enceladus, orbits around Saturn and is known for its active geological activity in the form of enormous geysers. The whole moon is covered in thick ice but beneath it is a global ocean with liquid water. This icy surface is constantly being torn apart by powerful geysers that spew vapor and ice with incredible force. Overall, Enceladus is considered one of the most scientifically intriguing bodies in the solar system.
10. Triton – The Retrograde Moon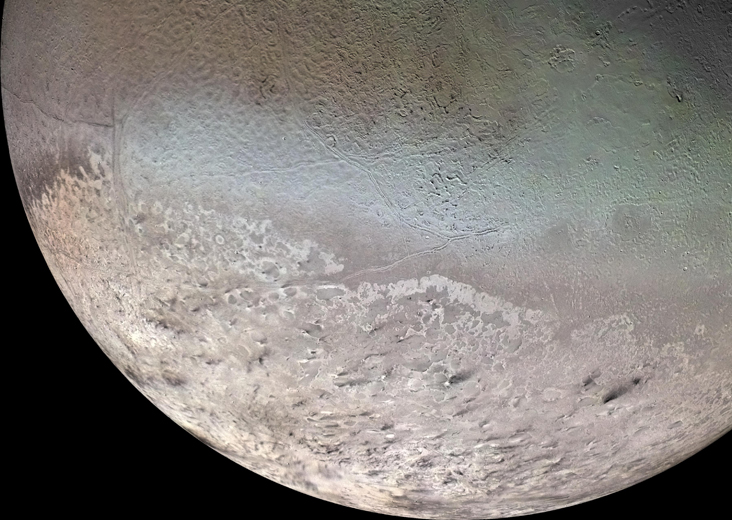 Neptune's largest moon – Triton, is known for several of its curious characteristics. First and foremost, it is the only large moon in the solar system to orbit in the opposite direction. In other words, it is going against its planetary rotation. This is why it is often referred to as the Retrograde Moon.
Furthermore, despite the incredibly low temperature on the surface of the planet, it has active cryovolcanoes. If you are unaware, cryovolcanic activity refers to eruptions of volatiles different than molten rock. In the case of Triton, we are referring to frozen nitrogen.
---
Join the discussion and participate in awesome giveaways in our mobile Telegram group. Join Curiosmos on Telegram Today. t.me/Curiosmos
Share Now